This article is more than 1 year old
Windows 8 for Kindle-like gear hinted by Microsoft bigwig
COO talks up Metro's much-loved consistent UI
Microsoft has given its strongest hint yet that Windows 8 on ARM (WoA) will run on a new generation of Kindle-style e-readers.
The company's chief operating officer Kevin Turner opened Microsoft's Dynamics 2012 conference by rattling off a list of devices that'll benefit from a consistent user interface because Windows 8 runs on both x86 and ARM architectures.
Buried among the devices is the e-reader.
A bombastic Turner was addressing 10,000 attendees at Microsoft's shindig for anyone turned on by Enterprise Resource Planning (ERP) and Customer Relationship Management (CRM) kit. He said Windows 8 will be the "first operating system on the planet" to provide the same user interface from handheld gadgets powered by ARM Systems-on-a-Chip (SoC) to fatter boxes with x86 chips from Intel and AMD.
"Microsoft will be this year the first company on the planet to have a consistent UI from the smart phone to the tablet to the slate, to the reader to the rich client and to the TV with our Metro UI," he said. "We know the power of getting that consistent user experience is something our whole product portfolio will benefit from."
So far, Microsoft has said little about WOA beyond the fact that it's coming. In February the software biz emitted a Windows 8 Consumer Preview build for punters to test drive, but this was for x86 machines.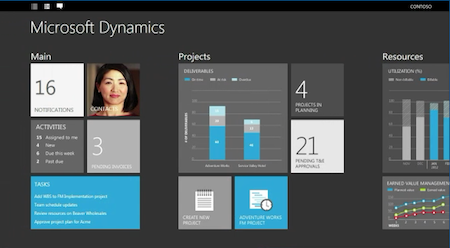 Metro-style coming to Dynamics in 2013
There's been no word, however, on the specific devices that'll run WOA, beyond the fact that WOA won't be available from retailers and it'll come only pre-installed on locked-down machines. That suggests e-readers, a category of device where Windows has yet to make any dent and that has proved popular based on Amazon's sales boom.
Also at the Dynamics event in Houston, Texas, Microsoft demonstrated its ERP and CRM software running with a Metro-style tiled UI. This will come in 2013.
On the roadmap for Dynamics in 2012 is support in the online versions of Microsoft's CRM gear for non-Redmond browsers and devices, and "social" interaction and customer care. Microsoft's Great Plains and Navision 2013, meanwhile, will run on Windows Azure. ®