This article is more than 1 year old
Fragmentation bomb wounds Android in developer war
Devs losing interest in the li'l green guy
A new study conducted by IDC and mobile-developer platform and services company Appcelerator has determined that as Google's open source Android operating system becomes more and more fragmented, fewer and fewer developers are putting it on their "must-code-for" list.
"We've seen a steady erosion of interest in Android" among developers, Appcelerator's principal mobile strategist Mike King told The Reg in a prebriefing before the study was released on Tuesday morning.
On January 25 through 27 of this year, the study surveyed 2,173 of the 280,000 developers using Appcelerator's mobile development platform, querying them on their platform preferences and development priorities. To dig deeper, King told us, a follow-up survey of 484 of the original respondents was conducted on February 21 through 23.
Appcelerator has been conducting this survey quarterly since 2010, and the Android slippage is a relatively new phenomemon. "This slow erosion of Android is interesting," King said, "because if you go back to the beginning of last year, Android was not quite neck-and-neck [with iOS], but pretty darn close."
About a year ago, King told us, the number of developers who said they were "very interested" in developing for Android for smartphones was just 3 percentage points behind iOS for iPhone and 2 points behind iOS for iPad. Interest in Android tablets was around 75 per cent, while iPad interest was at 88 per cent.
That has changed. Developers' interest in Android is slip-slidin' away, King said. "Interest in Android smartphone is sub-80 per cent – in the 78 per cent range, and interest in Android tablets is in the 67 range."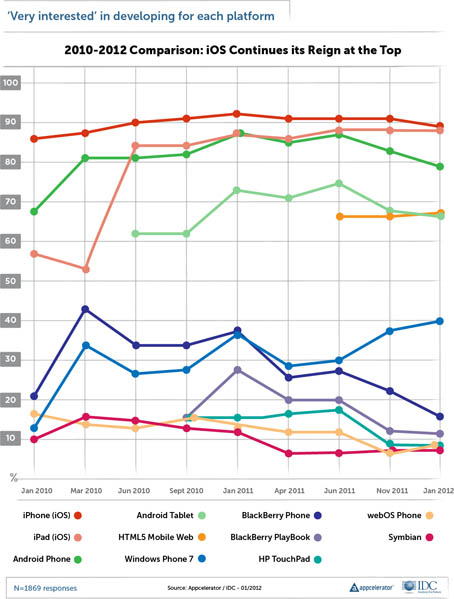 Developers for Android – smartphone and tablet – are falling out of love with that mobile OS (click to enlarge)
King is not talking merely about private developers – it's the whole ball of wax: independent developers, contract developers, small business developers, and enterprise developers.
And he says thinks he knows the reason for the drop-off in Android interest. "We believe it's really because of the fragmentation that Android's experiencing," he told us, "both at the platform and OS level, but also at the monetization-model level."
According to King, the multiplicity of Android app stores makes it more difficult for a developer to make money from his or her labors when compared to the centrality of the iOS app store – or, as Apple would prefer we refer to it, App Store™.
In addition, King said, "Most iOS users are on the most recent version of the operating system, and [there is] a very set number of devices and device classes."
Android? Not so much. It's a jungle of fragmentation and variation out there in Androidland. "That fragmentation is really starting to ding Android," he said, "and our developers have been, for the past year or so, very much a leading market indicator as to what happens to the different platforms."
Which, of course translates to: it's not going to get better for Android any time soon, especially with competition growing. "The fact that Windows Phone is increasingly a strong third in interest level, and the fact that we're getting some compelling Windows Phone devices out there, I think is going to cause some problems for Android over the long term if they don't do something to curtail that fragmentation."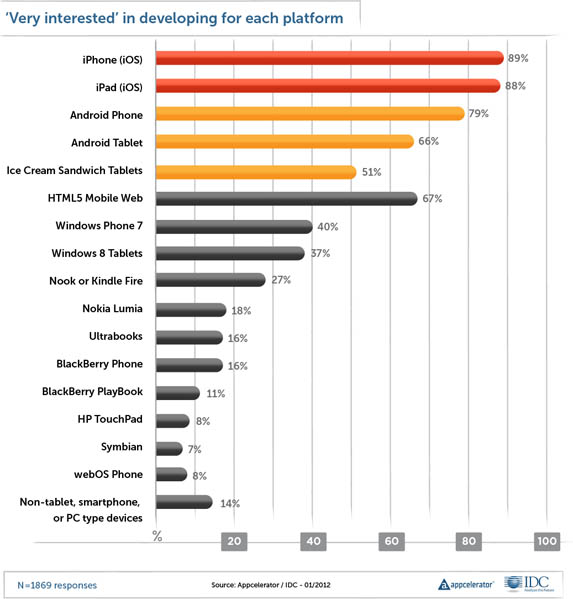 The HTML5 mobile-web category is beginning to catch on, eh? (click to enlarge)
Remember, though, that Android is still firmly ensconced in the top layer of the mobile operating system ecology. Far below top dogs iOS and Android, and tweener Windows Phone 7, cluster the also-rans, all sinking or flat – or, in the case of webOS, raising its beleaguered head a tiny bit due to open source optimism.
"All the BlackBerry stuff? Just continuing to drop," King said, and the survey showed the number of developers very interested in webOS phones to be at a dismal 7.5 per cent, and webOS tablets, 8.4 per cent.
It would take an enormous FAIL – a RIM- or HP- class FAIL – for Android to drop to single digits. But as RIM has shown, failure is not impossible in the mobile-device game.
But such an epic decline would be an unlikely slide from a great height. "Just look at the market," King instructed us. "Android outsells iOS devices – there's no question there." But that's not the whole story. "So why wouldn't developers be more interested in developing for it?, he asked. "Well, because it's not 'I'm developing for Android', it's 'I'm developing for different versions'."
Perhaps sometime down the road, Android will have fragmented so completely – compare today's Kindle Fire to, say, a Samsung Galaxy Tab – that Appcelerator and IDC will be forced to also fragment their quarterly survey results into various Android flavors. As the chart above show, Ice Cream Sandwich tablets are already called out as a separate platform.
Should Android fragmentation continue to plague the developer community, and should Appcelerator/IDC's survey strategy get rejiggered, Windows Phone's ranking may rise while iOS reigns unchallenged and undisturbed in its cozy walled garden. ®