This month Google - in the face of widespread criticism in Europe - implemented changes to its privacy policy even though French info watchdog CNIL declared that the tweak would violate the EU's data protection law.
Now CNIL has written to Mountain View demanding answers to 69 questions that it hopes will clarify "the consequences of this new policy for Google's users".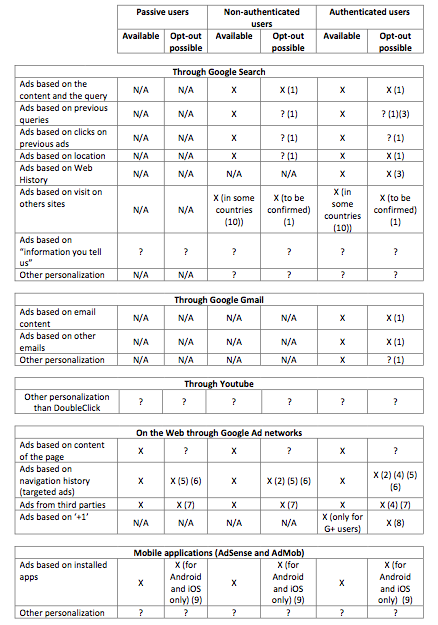 Pop quiz, punk!
The regulator was tasked by the independent European advisory body on data protection - the Article 29 Working Group - to investigate Google's policy rollout. The Larry Page-run company now has until 5 April to respond to the probing.
"Google's answers will serve to assess if the combination of data across services complies with the European data protection framework," the Commission nationale de l'informatique et des libertés (CNIL) stated.
The questionnaire seeks various technical answers to stuff that includes information describing how Google collects "opt-in consent" from its users as well as the level of "personalisation" involved with serving ads across its vast online estate. Google has also been asked to "confirm or complete/modify the content of" the above table.
CNIL, in its letter to Page dated 16 March, is also curious as to how Google now shares data across its services.
Google has been undergoing intense scrutiny of its business practices on both sides of the Atlantic for some time now. And the pressure keeps on building: late last week the Wall Street Journal reported that the US Federal Trade Commission had widened its investigation of the firm to include its bypass of privacy settings on Apple's Safari browser.
The company was placed on the naughty step by the FTC in 2011 following its Buzz blunder, and agreed in a "consent decree" to undergo biennial privacy audits for the next 20 years. That concession followed a complaint brought by the Electronic Privacy Information Center (EPIC) against the Chocolate Factory's failed attempt in early 2010 to stealthily slot its privacy-lite Buzz social network onto Gmail accounts without first seeking the consent of Google's users.
EPIC's executive director Marc Rotenberg told The Register late last week that he remained "hopeful that the Commission will still act on the March 1 changes in the privacy policy which we believe contravene the 2011 consent order". ®