Verizon Wireless had added a new service that puts a 21st century spin on Orwell's Big Brother, ushering in a brave new world of surveillance monitored by Big Mother and Big Father.
The service, entitled Family Locator and available to subscribers on Verizon's Family SharePlan for an extra $9.99 per month, enables helicopter moms and dads to keep close tabs on junior and sissy's whereabouts by tapping the location services of those untrusted kids' Verizon handsets.
"Peace of mind is right at your fingertips," says Verizon's marketing blurb for Family Locator – but we can say with a strong degree of certainty that the promised peace of mind doesn't extend to children whose every move is being tracked and displayed on their parents' PC or handset.
And not only are family members' locations tracked on an "interactive map" in a browser or smartphone app. Their comings and goings can be tracked as well, with kid-tracking parents receiving alerts when their kids – or, for that matter, their mates – stray from a user-defined radius.
Or, as Verizon puts it, "Arrival and Departure Updates send location messages when the person carrying the Locatee cell phone arrives or departs from a Location that you specify." Your Reg reporter has called his daughters many things over the years, but "Locatee" is a new one for him.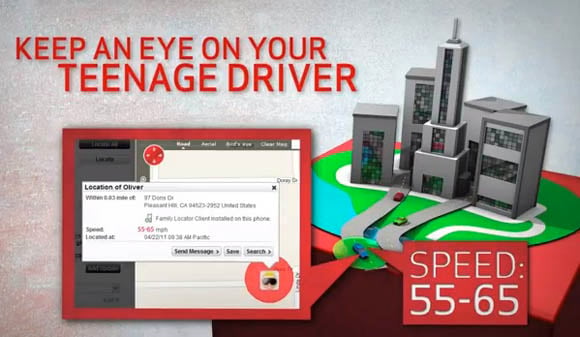 A Verizon video provides more details of the doting helicopter parent's new intelligence agent
Do you have a teenage driver in your family? Family Locator can betray their driving habits, as well, letting parents know not only where they are, but how fast they're driving – and it allows said parent to message them, telling them, for example, to slow the hell down.
Should a parent or child want to drive to the Location of a Locatee, and if they subscribe to Verizon's VZ Navigator – a "fully loaded next generation GPS" – they can obtain turn-by-turn directions to track them down.
Family Locator also allows its users to schedule check-ins at specific times of the day, notifying a parent, for example, if their li'l princess did indeed arrive at the library promptly at 4pm as she promised she would.
"With Family Locator," Verizon writes, "you'll never lose sight of who is most important to you," whether your target is a daughter whom you've warned not to ever visit that school chum's house, a son whom you've ordered not to stand on that street corner, or even a wandering spouse whom you've begged to never visit that ex-honey ever, ever again.
Of course, phones can be turned off – but woe betide the Locatee who doesn't have a good excuse as to why they attempted to escape from the ever-watchful eye of Family Locator. ®
Similar topics