US scientists demo hydrogen-powered robo-jellyfish
Our underwater overlords?
---
If you remember Niven's Down and Out*, then here's a concept that will sound familiar: a machine powering itself by harvesting hydrogen from its environment.
The jellyfish-like robot jellyfish demonstrated by researchers from Virginia Tech and the University of Texas, Dallas isn't quite up to the task of gathering its own hydrogen yet, but that's the ultimate aim.
Right now, what they've showed off is fairly impressive, though: in imitation of the familiar moon jellyfish, "Robojelly" propels itself with artificial muscles that mimic the squirting movement of a real jellyfish.
That movement is driven by the heat released when hydrogen and oxygen – right now carried in tanks – combine. The heat is conducted to a "shape memory alloy" (SMA) of nickel and titanium, which deforms a silicone bell to move the robot.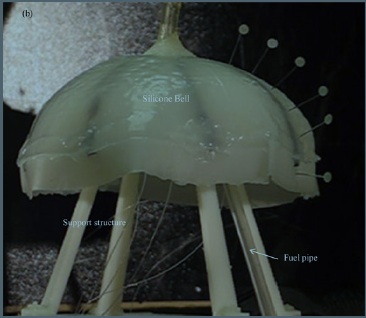 Robojelly - just add hydrogen. Image: Yonas Tadesse.
While the fuel-powered structure only managed a 13.5 percent deformation of the bell (compared to the 42 percent of a natural jellyfish and 29 percent of an electrically-powered structure), that's enough to move the device (and a fuel-powered arrangement is much more convenient than using electricity to power an underwater vehicle).
Lead author of the study published in Smart Materials and Structures, Yonas Tadesse (formerly Virginia Tech and now at Texas University, Dallas), told Discovery the jellyfish is a good model for a water-borne robot: its swimming motion is easy to mimic, and jellyfish don't have many predators, making it less likely that the robot will be attacked as a possible snack.
If the researchers can work out how to harvest hydrogen from seawater – without spoiling the design – then Robojelly could power itself indefinitely.
The work, sponsored by the Office of Naval Research could produce devices useful for ocean monitoring (for example, in response to environmental events), or for surveillance. ®
Bootnote: *Down and Out was a golden-era short story by Larry Niven; it involved a spaceship which powered itself by harvesting interstellar hydrogen. ®