August DTV700B portable Freeview TV and DVR
Mobile home entertainment?
---
Review The portable screen market is now dominated by compact DVD players, smartphones and tablets, so if you want a teeny telly for watching live programmes on the go, there isn't a massive choice. One contender is the DTV700B, a newly upgraded version of August's low-cost 7in portable digital TV.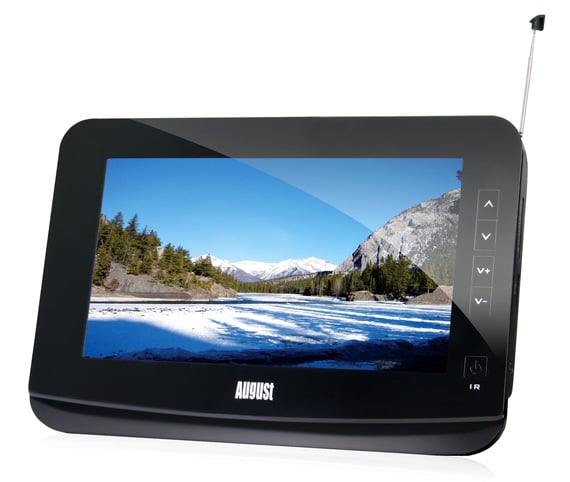 August DTV700B: Don't expect miracles from the built-in aerial
This revamped set offers a 20 per cent longer battery life and double the screen resolution compared to its forerunner, although the model number remains confusingly similar. One unusual feature for a TV of this size is built-in recording using USB disks or SD cards as its medium. Sadly it also has the all-too-common feature of not being very good.
The TV uses an integrated telescopic antenna or a small supplied plug-in aerial. Both are hopeless unless you are close to a high-powered transmitter. Even though my rooftop aerial gets a good signal from a post-switchover mast chucking out 200,000 watts, the DTV700B found nothing. When I took it to a different location 30 miles north it fared marginally better but it only got a fraction of the available channels and picture breakup made them unwatchable.

Slim and light but also plasticky in build quality
The manufacturer has a disclaimer saying, 'Freeview reception is dependent upon signal strength, in some areas the provided portable aerial will not be sufficient for television viewing. In these areas connecting to a rooftop or amplified aerial may enable Freeview reception.'
To be honest this is unsurprising, though if you have to attach a larger indoor aerial, including amplified ones, or wire up a rooftop antenna, then this television starts getting less and less portable.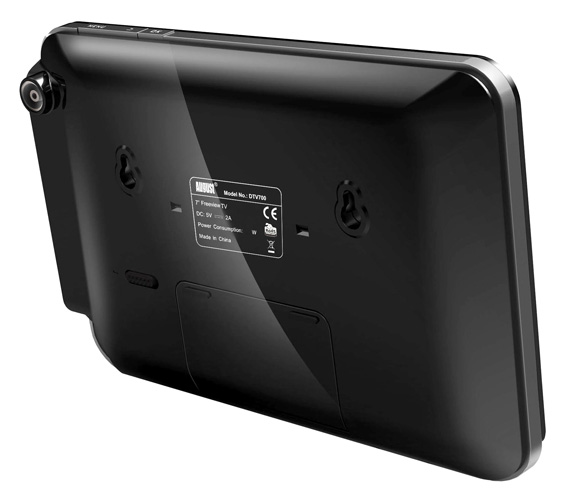 An RF socket with 5V output is included for more powerful aerials
Indeed, it is more suited for the likes of caravans or kitchens – note the 'egg timer' function. It can be hung on walls or – with an optional mounting bracket – under cabinets. Connected to a full sized aerial it works well enough as a small, conventional LCD telly but lacks interactive 'red button' services. However, subtitles are supported.