Hacktivists nicked more data than CYBER-CROOKS in 2011
Social crusaders account for 58% of data breaches
Hacktivism had a massive effect on the overall data breach scene last year.
More than half (58 per cent) of data stolen last year can be attributed to hacktivism – hacking to advance political and social objectives – according to the latest edition of the Data Breach Investigations report from Verizon.  The figures contrast sharply with findings from previous years, when the majority of attacks were carried out by cybercriminals, whose primary motivation was financial gain.
Seventy-nine per cent of attacks covered by Verizon's report were opportunistic. Only 4 per cent of the overall total were rated as particularly challenging for hackers to carry out. In addition, an estimated 97 per cent of breaches might have been avoidable without recourse to difficult or expensive countermeasures.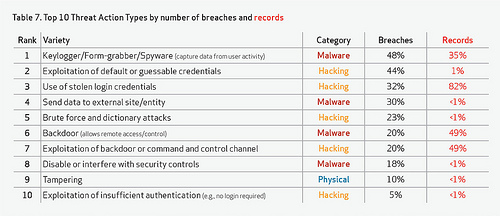 Image via Verizon
Wade Baker, director of risk intelligence at Verizon, told El Reg that 44 per cent of the attacks exploited default or easily guessable credentials. However he qualified this remark by saying that default passwords were a far greater problem in hacks involving smaller organisations.
Breaches originated from 36 countries around the globe, an increase from 22 countries during 2010. Nearly 70 per cent of breaches originated in Eastern Europe and less than 25 per cent originated in North America.
The report covers 855 data breaches that collectively spilled 174 million records, the second highest number since Verizon began collating this type of data back in 2004. External attacks were blamed for the vast majority (98 per cent) of data breaches. This external attacker group includes organised crime, activist groups, former employees, lone hackers and organisations sponsored by foreign governments.
Hacktivism by groups like Anonymous and LulzSec figured in many data breaches last year. Wade reckons recent arrests might reverse this trend, but he's far from sure on this point.
"Anonymous is a movement. It's hard to stop a movement by taking out individuals," he said.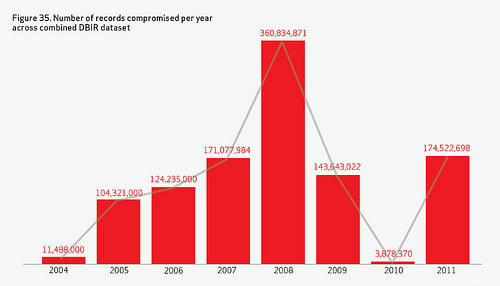 Image via Verizon
Attacks were overwhelming led by outsiders of one type or another. Only 4 per cent of attacks relied on the involvement of internal employees. Business partners were a factor in than 1 per cent of data breaches.
Hacking appeared in 81 per cent of breaches (compared with 50 per cent in 2010) and malware featured in 69 per cent of breaches last year (also up from the 49 per cent recorded in 2010).
The increase is easily explained: hacking and malware offer outsiders an easy way to exploit security flaws and gain access to confidential data. The ready availability of easy-to-use hacking tools also contributes to this effect.
Social engineering (tricking end users into doing something stupid or handing over information to attackers) and SQL injection attacks against vulnerable webservers also figured as a factor in many attacks.
Another important factor in attacks is the slow speed at which organisations patch up vulnerable systems and the length of time between a successful compromise and its discovery, which is most often measured in months or even years. Third parties continue to detect the majority of breaches (92 per cent).
Industrial espionage revealed criminal interest in stealing trade secrets and gaining access to intellectual property. "This trend, while less frequent, has serious implications for the security of corporate data, especially if it gains steam," Verizon warns.
Wade said that attacks involving intellectual property theft were an "undercurrent in [the] data set". Industrial espionage was the prime motive in around 5 per cent of attacks, he said. In such cases insider involvement was more common.
While compliance programmes, such as the Payment Card Industry Data Security Standard, provide sound steps to increasing security, being PCI compliant does not make an organisation immune from attacks.
The US Secret Service and the Met Police's Central e-Crime Unit collaborated with Verizon in preparing the report, which this year also involved input from other police agencies in the Netherlands and Australia. Verizon's annual study, now in its fifth year, is considered among the best of its type in the infosec business.
Verizon's report, which includes separate recommendations for enterprises and small businesses on guarding against cyber attacks, can be found here. ®