Revealed: Google's SECRET London office
Remarkable snaps of subterranean bunker complex
---
Earlier this week, El Reg got its sweaty paws on some exclusive snaps of the new Google outpost in London's Central St Giles building.
Our correspondent noted that some staff will relocate to the new pad from the search monolith's current base in Victoria, but wondered just where the rest of the Google drones would end up once the lease on that edifice ran out.
Well, we can sensationally reveal that they've already moved to a vast bunker complex somewhere under the capital, although we can't tell you exactly where since our informant "Deep Throat" obliged us to swear a solemn oath of silence.
He did, however, provide us with quite remarkable photographs of the subterranean Googleplex, including images of the bog-standard lap-dancing booths, whalesong-washed chill-out rooms, and orgy-friendly circular sofas.
Nothing new there, but prepare your minds to be well and truly boggled at what is without doubt the most impressive corporate HQ since Ernst Stavro Blofeld set up shop in an extinct Japanese volcano.
Click on any of the photos for a bigger version. Here's the reception area: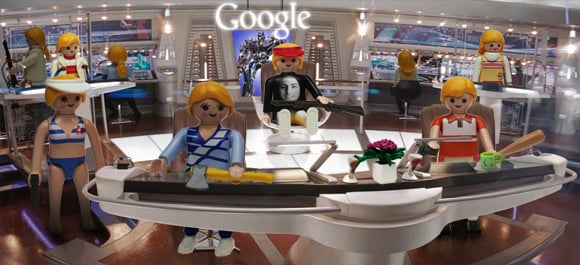 The dress code is evidently casual, but the security's anything but. It goes without saying that everyone at Google is beautiful, but these Aryan "Public Interface Operatives" are trained in 40 ways to kill with their bare hands, armed to the teeth and under orders to liquidate anyone from Microsoft who attempts to enter the building without an appointment.
You'll note that there's an additional member of its security staff waiting in the wings, in the event of that Beast of Redmond special forces mount a massed charge on the front desk.
If you think this is all a bit excessive, here's what all those staff are protecting: the room from which Google controls the internet, and therefore the world...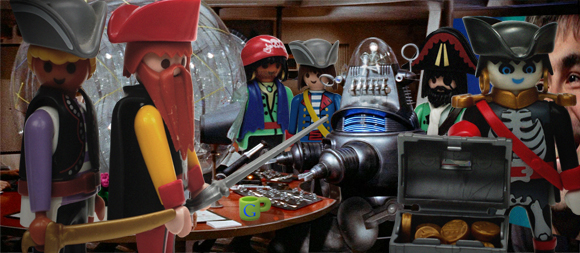 The boys from corporate acquisitions have popped for a chat and to see if there's anything out there in cyberspace Google doesn't yet own. On the right is Bob from accounts, who's got some "buyout doubloons" at the ready, just in case.
Doubtless some of you reject the idea that Google controls the known universe, but here's how the company puts the frighteners on those who stand in its way: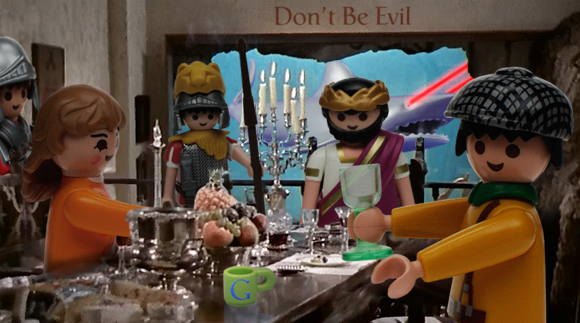 This is the executive dining room, where Google potentates entertain guests and talk them round to the Mountain View view of a brighter future. The invitee in this case is the president of some minor European nation which has resisted an invasion by Street View spymobiles.
If he and his wife aren't intimidated by the presence of the Google Praetorian Guard, then the robotic shark with frikkin' laser beams coming out of its eyes ought to persuade them that perhaps Orwellian black Opels should be welcomed with open arms.
Yes, it's true. Google now has a laser-armed robotic shark capability, but that's just part of its chilling scientific work down at Google Labs. Here we can see a recent experiment to implant the brain stem of a dog into a YouTube commenter: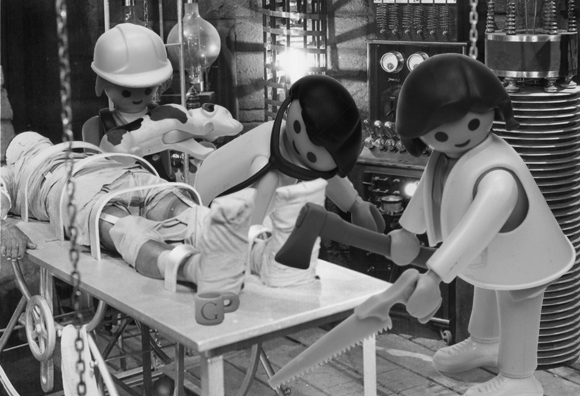 The idea was that if he can't be stopped gobbing off on the internet, then he can at least be trained to do something useful, like bringing you your slippers.
It apparently worked, because here's a typical employee in the Google bunker being offered said slippers by his own "Canotard":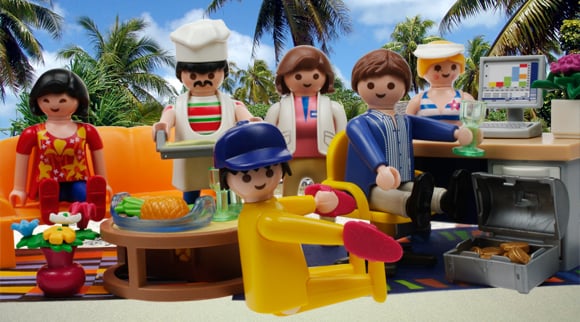 He also has a personal team at his disposal, including a Thai "Happy Ending" masseur or masseuse, according to taste, a pizza chef, a nurse and a bikini-clad assistant.
In case you're wondering what the background's all about, we should explain that every Google employee has his own holodeck capability, so if he feels he'd be more creative in Hawaii, it's just a button press away.
Pretty impressive stuff, and just as well, since the Vulture Central mainframe has just calculated that within 43 years, everyone on Earth will work for Google. ®
Related stories
You can find all of our shock miniature revelations right here.