There is a fight going on for the soul of server storage and HP and EMC are in the front line trenches getting ready for all-out marketing war.
HP's strategy depends upon smartening up its ProLiant servers. The eighth generation ProLiant is turbo-charging its storage with a Smart Array containing solid state drives and Smart Caching. EX-EMCer David Donatelli's HP ISS organisation is going head-to-head with newish EMC exec Pat Gelsinger's EMC storage operation. Can HP's Donatelli beat Gelsinger in the end-to-end server-to-array storage business?
Smart storage is part of the general gen 8 ProLiant "smart movement": "Servers are so smart that they are going to virtually take care of themselves," as Mark Potter, HP's ISS general manager said.
HP's Smart portfolio includes Smart Operations, Smart Updates, Smart Energy and Smart real time tuning. It also includes two Smart storage items: the Smart Array controllers and Smart Caching, which both feature solid state storage to solve the disk I/O bottleneck problem, as well as Smart Data Services software to use this hardware.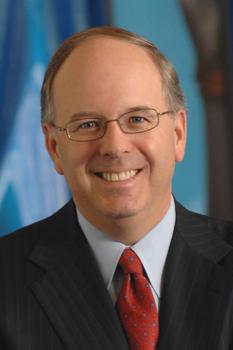 HP's David Donatelli
The background here is that HP is working on using flash storage in its servers as EMC has done with its VFCache and which Dell is intending to to do. The basic idea is to have the data that server apps need in the local flash cache when it is needed so that apps complete much. much faster.
How is HP going to do this?
An HP Connect blog post states: "The HP [Gen8] ProLiant servers includes an 6G embedded SAS controller with 6X[1] the performance of previous generation controllers that moves from traditional SAS 15k hard drives to SAS SSD which in turn results in to a ~60x[2] performance boost."
The [1] and [2] references are to:
1 6X improved storage performance: testing of the new Smart Array controllers compared to the current generation Smart Array controllers in a RAID 6 configuration; Internal HP Lab testing.
2 Compared a G6/7 Smart Array (P411) with 15K SAS hard drives to the Gen8 Smart Array (P420) with 8 SSDs; Internal HP Lab testing.
The summary at the end of this blog post says: "The HP ProLiant Gen8 Servers addresses the #1 performance bottleneck: storage. Their radical redesign unifies compute and storage and delivers all-in-one platforms optimised for storage workload demands while protecting critical data."
HP's marketing sub-text is: "Get thee gone, Gelsinger."
Also, El Reg's feelers into HP suggest that HP is not impressed with EMC's VFCache, viewing it as having clunky filter drivers, no hypervisor drivers, and being non-integrated with back-end drive arrays, in addition to only working with Fibre Channel data feeds. It's obviously a first generation product which will help validate an emerging market whose characteristics are not yet clear.
Smart Storage engineering
Our understanding is that a Smart Storage engineering unit inside HP is producing a ProLiant server flash cache and software that will be integrated with back-end arrays. The end-to-end and tiered storage channel will operate in a co-ordinated way so that as data gets progressively hotter it moves up the tiers and, as it cools, it moves down them. This is called Dynamic Workload Acceleration and there is an HP blog about the ideas behind it here.
Talking about gen 8 ProLiants and I/O performance gaps, the blog says: "[One] performance gap is in the area of database applications. In order to achieve industry leading benchmark numbers, HP matches a number of hard drives to balance the load of ever-increasing processor and memory speeds. In the year 2000, we used 180 spindles. In 2009 we used over 1,000 spindles. For Gen 8, the number goes well past 2,000!
"We had to change the game, and that game changer is Solid State. With Gen8 solid state optimised Smart Array controllers, HP has been able to achieve maximum performance with less than 100 SSDs. … The new Smart Array for Gen 8 delivers more than 4 times the I/O rate for read operations and more than 6 times the IOP rate for database workloads. The Gen 8 Smart Array with solid state drives is sixty times faster than the previous generation controller with traditional hard drives.
"And with industry leading PCI express Gen 3 support, bandwidth is up more than 85 per cent."
Similar topics