'Intelligent systems' poised to outsell PCs, smartphones
IDC: ARM facing shrinking market share
Analyst house IDC predicts that the traditional embedded-systems market is reaching an inflection point where a new breed of intelligent devices will take over the market and drive the current fashionable terms de jour: Big Data and "the internet of things".
IDC defines intelligent systems as those that use a high-level operating system, connect to the internet, run native or cloud-based apps, and have the ability to process their own data. The analysts anticipate that by 2016, these smart systems will account for a third of the embedded processor market, but over two-thirds of its value, and their numbers will outpace the growth of either PCs or smartphones.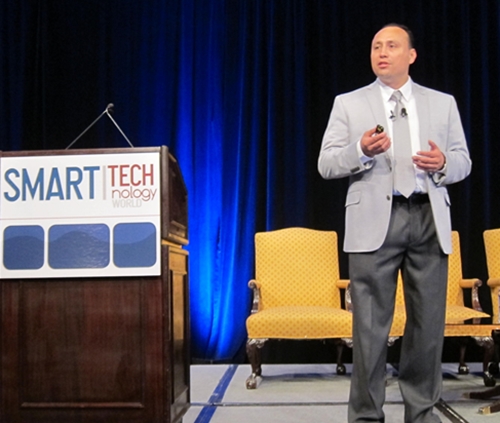 The future's in smart systems, IDC's Mario Morales predicts
"Our vision is clear, we're going to see this transformation over the coming decade, and it's going to mean billions of units in terms of volume and over a trillion opportunities in terms of revenue," IDC's Mario Morales, vice president of enabling technologies and semiconductors told the Smart Technology World conference in San Francisco. "It's going to happen not just in the consumer world, but also in the enterprise. We're very excited about it because now what we have considered as embedded and taken for granted is really sexy again."
Consumer goods such as vending machines and kiosks are going to be the key growth drivers, he said, with energy systems such as smart meters and solar-power management systems in the energy sector providing major growth. In the enterprise space, this means that a lot more data is going to be flowing that could be analyzed and used to refine business plans.
The shift will also mean big changes for the British chip wizards at ARM. According to IDC's figures, ARM had 71 per cent of the processors in embedded systems last year, but by 2016 this share will nearly halve to 38 per cent. By contrast, x86 systems, which currently have 8 per cent of the market, will grow to 41 per cent as manufacturers seeks to put more grunt into their systems.
This latter shift is good news for Microsoft, which has already announced plans to offer a couple of flavors of Windows 8 for embedded devices – although that operating systems is slated to eventually run on ARM. Kevin Dallas, general manager of Microsoft's Windows embedded business, told The Register that intelligent systems would be introduced in a variety of flavors as the market develops.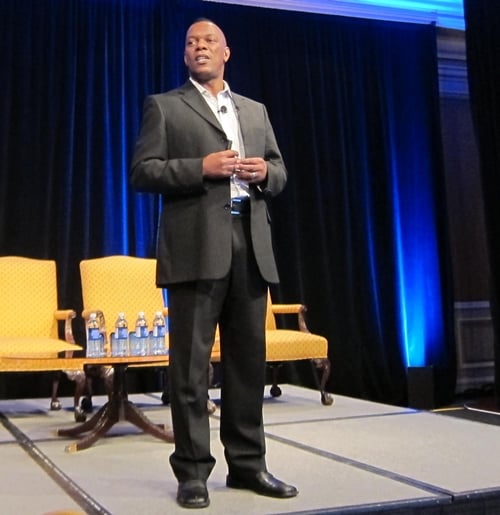 Windows 8 will be coming to embedded in various flavors, says Microsoft's Kevin Dallas
"I think it's going to be more of a hybrid approach," he explained. "We'll see rich clients with machine learning and analytics, complimented with cloud where it would make sense."
For example, in-car systems are seen as a major growth area, but a cloud system doesn't make a lot of sense for analytics processing in that environment, he said. If the car detects a fault in itself, there's no point in offloading that data into the cloud for processing and getting the results back minutes later, when what is needed is an immediate response from sensors powerful enough to do their own analyzing.
Security is also going to be an increasing factor, he said. Microsoft is taking a two-pronged strategy on this, with ForeFront protecting the server side and a system called "enhanced write filters" on the client side. This would use in-memory storage to ensure that data could not be slurped by outsiders and to provide a level of anonymity in transactions.
During the conference, speaker after speaker regaled delegates with tales of how the new future of intelligent systems would revolutionize the world we live in, but El Reg is skeptical. Certainly the technology industry is keen for this to take off – there's lots of embedded systems and servers to be sold with the concept, not to mention big bucks in data analysis. But how much smarts does a vending machine really need? ®