Micron's revenues circle drain for third straight quarter
Down, down, down for DRAM and flash maker
The numbers are straightforward. In its second financial 2012 quarter, ending 1 March, DRAM and NAND maker Micron sold $2.1bn of chips and SSDs and made a loss of $224m. This reflects the deepening of a trend that has been underway for seven quarters, with declining revenues and falling profits turning into losses.
If you have a look at the chart below, you'll see the glory revenue quarter is the final one of financial 2010 – at $2.5bn – and the best profit number is the $939m earned in the third financial 2010 quarter. It has been downhill all the way since then. Revenues have declined and profits have declined faster as over-supply has caused the average selling prices (ASPs) for Micron's products to go south.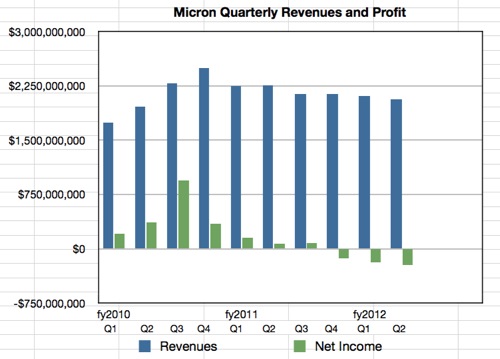 Micron's recent quarterly results
DRAM and NAND production is hugely capital-intensive and the only way to turn a crust is through churning out and selling sufficient chips to lower the cost/unit enough to enable a supplier to have attractive prices with enough margin for a profit. Micron hasn't pulled this off.
It has reduced capital costs by partnering Intel in IMTF to make NAND chips but that hasn't worked in a "make profits" sense. It is moving up the NAND value chain by selling SSDs but SSD revenues are a drop in the ocean compared to chip revenues. Maybe Elpida's bankruptcy provides an opportunity to pick up DRAM fab capacity at a good price and so increase chip volume and lower per-unit costs.
Micron said that DRAM and NAND flash revenues "were slightly higher in the second quarter of fiscal 2012 compared to the first quarter of fiscal 2012, due primarily to approximate 20 per cent increases in sales volumes offset by decreases in average selling prices."
The DRAM ASP went down 16 per cent in the second quarter compared to the year-ago quarter, while NAND ASPs went down 23 per cent. Annoyingly bit growth was up – 21 per cent for DRAM and 36 per cent for NAND – excluding sales to Intel. Micron lowered its production costs, with cost/bit of DRAM declining 14 per cent and 18 per cent for NAND, but it was not enough to offset the ASP declines. You sell more bits but for a lot lower price and lose money – what a game to be in.
There's the problem right there. Overall revenues weren't higher in the second quarter compared to the first, because sales of other products, such as NOR flash, went down. The company said: "The company's consolidated gross margin declined to 13 per cent in the second quarter of fiscal 2012 compared to 15 per cent for the first quarter of fiscal 2012, due primarily to declines in gross margins for the company's NOR flash products in the wireless market. "
The firm is getting more fab volume by restructuring the IMTF partnership with Intel. Micron CEO Mark Durcan said in the earnings call that, together with a new fab in Singapore that is ramping up production, this "will lead to structural margin improvement going forward."
He wouldn't comment about Elpida, beyond saying that Micron evaluates market situations and aims to strengthen its competitive position. Whoever gets the Elpida fab capacity should be able to increase chip output volume and lower costs, in principle, and that underscores everything in this business. Production volume and lower unit costs are key. If Samsung gets it, then its lead over the other players will stretch out and they may never catch up, sparking off consolidation at the second-tier DRAM and NAND fab supplier level.
Micron should fare well if that happens and could hope to reverse its losses into profits a few quarters on. ®