This article is more than 1 year old
Brazilian cops hunt pillaging 'gang of blondes'
Sao Paulo express kidnapping she-devil cuffed
Pic Brazilian cops have cuffed two members of the so-called "gang of blondes" - a pack of she-devils who allegedly carried out up to 50 express kidnappings in Sao Paulo between 2011 and 2012.
The group - led by Wagner de Oliveira Gonçalves and his wife Monique Awoki Casiota - are accused of targeting visibly affluent female victims in the car parks of shopping centres and supermarkets. Gonçalves and an accomplice would grab their mark, force her into her car and relieve her of credit and bank cards, police said.
Their associates would then cooly max out the credit cards and withdraw cash from the victim's bank account while she was driven around in her own car, the cops allege adding that the mark would later be dumped back where she'd been kidnapped.
Police officer Alberto Pereira explained: "In one case, they used the cards to buy 17,500 reales (£6,100) worth of goods, and withdrew over 3,000 reales (a tad over £1,000) in cash."
According to this report, the gang members are well educated and speak foreign languages. Police believe they are also experienced criminals, having specialised in raiding condominiums before moving on to express kidnappings.
Gonçalves and his wife, the group's only brunette, liked to refer to themselves as "Bonnie and Clyde", according to investigators. Police named their five blonde partners in crime as sisters Carina and Vanessa Geremias Vendramini, Franciely Aparecida P. dos Santos, Priscilla Amaral and Silmara Lan.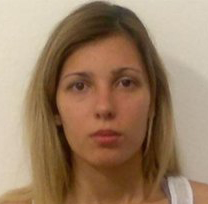 Carina Geremias Vendramini, 25, (pictured) was the first of the gang to be cuffed, on 9 March. Vendramini, who has a two-year-old child, previously worked in telemarketing before turning to crime. She admitted involvement in the kidnappings and was identified by three victims.
Brazilian news reports claim Wagner de Oliveira Gonçalves is also now in police custody while a dragnet closes in on the remaining fugitive blondes.
Jorge Carlos Carrasco, head of São Paulo's Departamento de Homicídios e de Proteção à Pessoa (Murder and Personal Protection Department) said: "Without a doubt, this was one of the principal express kidnapping gangs in São Paulo." ®