This article is more than 1 year old
Pioneer SC-LX85 9.2 AV receiver with AirPlay
An amp for all seasons
Review The Pioneer SC-LX85 is AV receiver royalty. It lords it over the rest of the brand's home cinema range, resplendent in the latest audio visual finery. Priced at £2K, this is red carpet home cinema.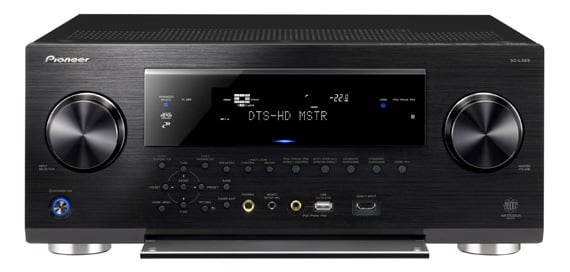 AV aristocracy: Pioneer's SC-LX85
There's little doubt that the SC-LX85 is exquisitely built. It sports a convoluted, rigid chassis with a glossy fascia offset by subtle metal trim. You might need some help lifting it from its box, as it tips the scales at 17.9kg.
Connectivity is extensive. With seven HDMI inputs, all 3D ready, you're unlikely to run out of places to plug things anytime soon. There are also two HDMI outputs, to feed both flatscreen and projector. New on this season's model is HDMI Standby Through, which routes connected sources to a TV without the need to power up, and AirPlay, Apple's pushmi-pullyu wireless audio system for iTunes and iOS.
The SC-LX85 is also a DLNA renderer, so Android owners can enjoy much the same functionality with the appropriate app. Not that the SC-LX85's network niceties end with AirPlay and DLNA. Pioneer's proprietary Air Jam system is built-in that has its own iOS app. Using an optional adapter, up to four Bluetooth devices can be paired to the receiver.
Each Bluetooth user can then cue songs to create a collective playlist, a feature certain to go down a storm at your next Come Dine With Me soiree. 
While the SC-LX85 doesn't have integrated Wi-Fi, Pioneer has tried to redress the situation by bundling an adaptor in the box. Unfortunately, I found this an awkward, uncooperative gizmo, and soon consigned it back to box.