A group of researchers at the Massachusetts Institute of Technology has developed 3D mounting techniques for photovoltaic cells that can increase power output per footprint by up to 20 times over that of fixed flat panels.
"Our findings suggest that harnessing solar energy in three dimensions can open new avenues towards Terawatt-scale generation," the authors write in the abstract of their article, "Solar energy generation in three dimensions", published online by the journal Energy & Environmental Science.
Perhaps more important than the successful models of such 3D mounts the team has tested, is the analytical software developed that can model different 3D configurations in a wide variety of latitudes, seasons, and weather conditions.
"I think this concept could become an important part of the future of photovoltaics," said MIT professor Jeffrey Grossman, the paper's senior author, in an announcement of the breakthrough.
The 3D installations that the team has modeled range from a simple cube to tall, thin towers onto which are mounted undulating rows of photovoltaic cells.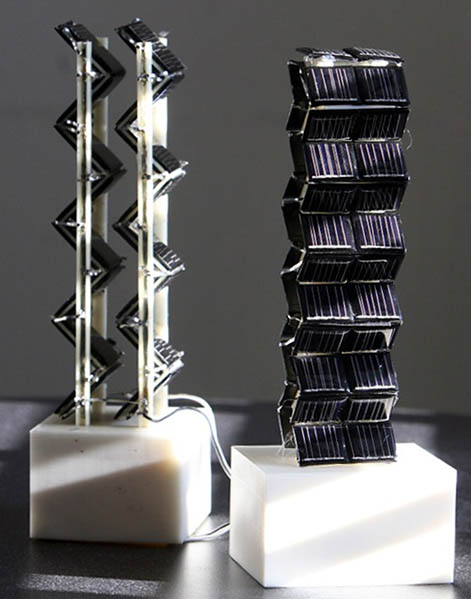 A couple of 3D configurations that the team tested on an MIT roof (photo: Allegra Boverman)
One distinct advantage of the 3D structures, the team reports, is that they can gather slanting sunlight better than can flat panels in locations far from the equator, during morning and evening hours, and during the winter.
Although mounting photovoltaic cells in a 3D configuration is more expensive than placing them in a simple flat panel, that cost is offset by the extra power generated per unit of mounting area, they say.
They also contend that their 3D configurations provide "much more uniform power output over the course of a day, over the seasons of the year, and in the face of blockage from clouds or shadows."
The cost of photovoltaic cells has been dropping precipitously in recent years, due in part, some say, to unfairly subsidized Chinese competition – though other analysts disagree. Whatever the reason for the price drops on power-generating cells and assembled panels, Grossman believes the new pricing makes his team's more-expensive 3D installations cost-effective.
"Even 10 years ago," he said, "this idea wouldn't have been economically justified because the modules cost so much." That is changing. Today, he says, "the cost for silicon cells is a fraction of the total cost, a trend that will continue downward in the near future."
Although the team has tested only individual modules, they plan to now study multi-tower installations, taking into account how each tower will cast shadows on its fellows during different times of the day.
Grossman noted that although the idea of 3D photovoltaic installations is not a new one, "our study is different in nature, since it is the first to approach the problem with a systematic and predictive analysis."
You can find details of the MIT team's methods, materials, simulations, code design, and some application examples – including an e-bike charging tower – in a free supplement to the £34 Energy & Environmental Science paper. ®