Friends Reunited rebrands as memory bank for oldsters
Old school is, er, cool
---
Friends Reunited is relaunching itself as a "share the memories" site, inviting users to remember and post about everything from Winston Churchill to the wedding of Prince Charles and Lady Di and chewing on the sickly fruitiness of Refresher bars from the school tuck shop.
The social network was launched in 2000, hit a peak of 15 million members in 2005 when it was bought for £120m by ITV, and then fell into a spiral of decline as it was overtaken by Bebo, MySpace and then Facebook. In 2009, Friends Reunited was picked up by Brightsolid, a subsidiary of Scottish newspaper group DC Thompson, for £25m. In 2011, DC Thomson (which publishes the Beano annual) reckoned that the site had tumbled again in value and was worth about $5m.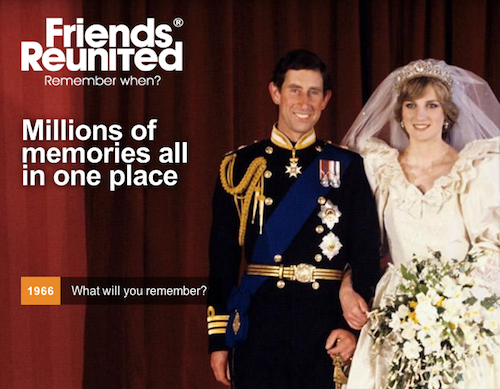 The relaunched site puts a heavy emphasis on memories and nostalgia, angling itself as "The place to remember when" and now inlcudes new categories: "What We Wore", "As Seen on Screen" and "What We Ate".
The new homepage features a rolling carousel of photos asking people to remember events ranging from Winston Churchill's leadership in 1945 to Linford Christie's win in 1992 to women getting the vote in 1918.
Brightsolid owns several big brands in the nostalgia and family history market – including Genes Reunited, FindMyPast.com and a searchable digital version of the UK's 1911 census – so giving Friends Reunited a makeover in this direction is not a surprising.
It may appear to be a desperate marketing ploy, but actually the relaunched Friends Reunited has some bang-on-the-money features, including Pinterest-style pinboards allowing people to comment on public photos and pin up their own. And nostalgia is a potent force on the internet, as Facebook itself has acknowledged with its memory-focused Timeline.
Of course the real test will be whether Friends Reunited picks up its membership from the 1.5 million that currently visit the site. We'll keep you posted. ®