Net worker
Arm-strength draining, then, and battery draining too. Using the iPad 3 on a cellular network will suck extra power, enough to knock an hour or so off your runtime. You can switch the cellular radio off - switch on Airplane mode, but turn on Wi-Fi.
But if you're going to be turning off cellular for long periods, you should ask yourself if you need it at all. I use my smartphone or a pocket 3G router, either of which will work as a hotspot, when I need net access away from a Wi-Fi network. And it means I can make do with a cheaper, lighter iPad.
Sample Shots
But if you do want 3G built in for convenience, the iPad 3 will do the job nicely, if my testing with Three's network was anything to go by. Speedtest.net results came in as good as I'd expect from the locations I test it in.
As a Wi-Fi device, the iPad is impressive, supporting not only 2.4GHz 802.11n and older Wi-Fi specs, but also 5GHz operation - handy if, like me, you like an uncongested home network. I didn't experience any of the Wi-Fi signal dropout reported by some users, either on my 5GHz WLAN at home or the 2.4GHz network at Vulture Central.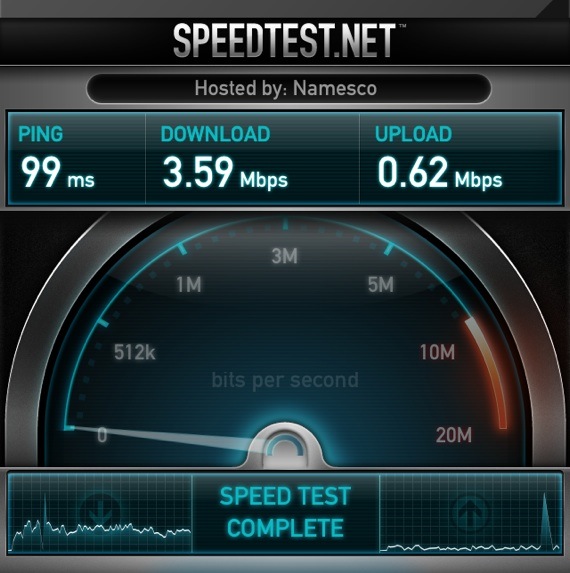 No 4G? Maybe, but the iPad 3's 3G speed is decent enough
Like the iPhone 4S and the most recent MacBook Air, the iPad 3 supports Bluetooth 4.0, but that's unlikely to matter much. Rest assured, it's compatible with Bluetooth 2.1, which is what 99 per cent of the Bluetooth accessories you're likely to want to use with the iPad 3 connect by.
I had no trouble getting the iPad 3 to talk to my Philips Fidelio speaker for some wireless music streaming.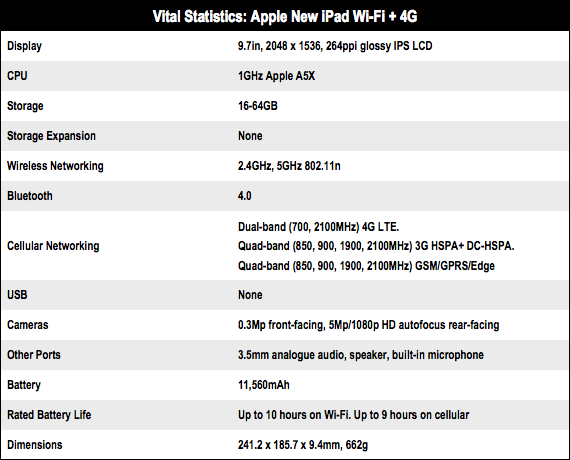 Similar topics