It's official: China has more cheapskate iPad fanbois than any other country on earth.
According to a report released Tuesday by the app store analysts at Distimo, last month was the first time that the US fell from number one in free iPad-app downloads, dethroned by China. During February, Chinese iPad users downloaded over 1.1 million of the top 300 free apps in that country, while iPad pikers in the US downloaded fewer than 1 million.
As Distimo points out, however, freebie iPad app downloads in the US may have been depressed by the fact that prospective iPad buyers may have been waiting for "The new iPad" to be born – a blessed event that occurred on March 7.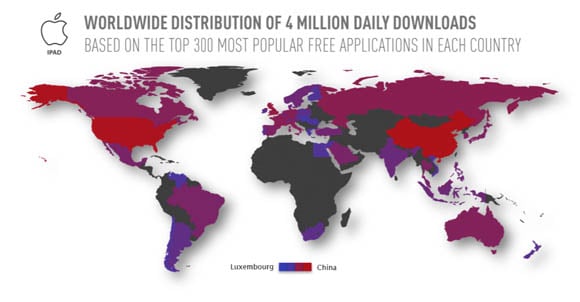 Global free iPad app distribution: 1,336,718,015 people can't be wrong (click to enlarge)
It will be intersting to see if free-app downloads dip a bit in China over the next few week as iPad fans pause to await the April arrival of "The new iPad" in that country – a debut that had been delayed by Wi-Fi approval and dogged by a pesky lawsuit over the trademark to the name iPad – or, for that matter, iPAD.
Although the rise of free-app downloads in the Middle Kingdom is intriguing, of more interest to app developers is the fact that the US still holds the honor of being the country in which more money can be made by actually selling iPad apps.
According to Distimo, the US continues to reign supreme in paid-app sales when calculating gross revenues from the 200 top paid apps sold. China is not even among the first five top-grossing countries.
"Aside from the United States," Distimo advises, "the countries that developers should aim for if they have a one-off or in-app strategy are the United Kingdom, Australia and Canada" – countries in which a large number of Reg readers are clustered, by the way.
We'll simply let you, dear reader, come to your own conclusions about the correlation of Reg readership and iPad fanboi purchase patterns.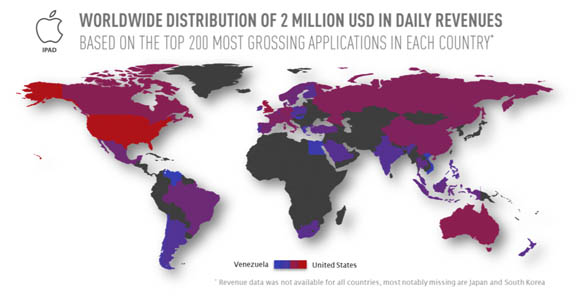 The States still lead the world in daily iPad app revenue. U! S! A!, U! S! A! (click to enlarge)
Distimo provides a lot more detail about which countries buy what apps, which classes of apps are most popular in free and paid versions, the rise of in-app purchases – in 10 per cent of iPad apps, 6 per cent of iPhone apps, but just 2 per cent of apps in Google Play – and many more fun facts that are available in the downloadable report summary (registration required).
The full report comes in three volumes – North America, Asia, and Europe – and each volume will set you back €399 for a single-user license or €798 for a company-wide license, although discounts are available should you choose to buy more than one volume.
iPad apps may be free, but detailed information about their sales stats and trends isn't – not even in China. ®