This article is more than 1 year old
Motorola Motoactv GPS fitness tracker
For the wandering weight watcher
Review Motorola may be pitching its "world's first" GPS fitness tracker as the ultimate fusion between exercise and music, but I reserve that accolade for mosh pits. In fact, I'm more inclined to agree with Henry Ford who once said "Exercise is bunk. If you are healthy, you don't need it: if you are sick you should not take it."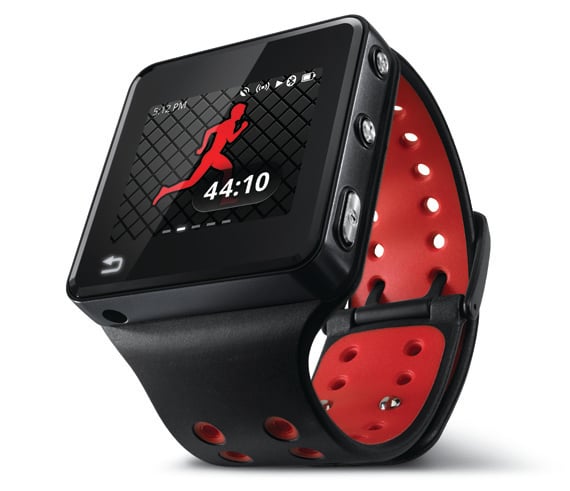 Sports illustrated: Motorola's MotoActv
Either way, I put the MotoActV through its paces this month, hoping it might actually encourage me to conform to this exercise malarkey and raise my heart rate into triple figures for the first time since PE class.
The ActV shares a similar form factor to the iPod Nano, with a slighter larger 46mm square body and 1.6in touchscreen display. Unlike Apple's diddy MP3 player, physical buttons are spread across two sides of the square, with a 3.5mm headphone socket on the bottom and a microUSB port on the left.

Watchstrap option – there's an armband alternative too
Corning Gorilla Glass coats the display, protecting it from knocks, while the rear is protected by a metal plate, used to slide the device onto a wrist-strap. Et voila! A nifty digital watch. While the strap itself is refreshing, with a dual-pin fixing and chunky strap, the package as a whole is far too bulky for my liking.
Athletic aesthetics aside, the Motoactv synchronises to a user's Android device – provided it's a Motorola – so the fact I have had a Defy+ floating around certainly helped put things to the test. Even so, it seems a bit shortsighted that Moto limits use to its own devices, though.

A nod to the iPod Nano: it plays MP3s and has an FM radio too
The sync aspect comes in handy for picking up calls on the move, with message updates also appearing on screen. A headset of some kind is required to answer through the Actv though. Moto's supplied SF200 sports earwear sounds fine and is practical too, it won't appeal to everyone, as having a cable running from the 'watch' up your arms can become annoying after a while. There's always the Bluetooth option, but you'll want to ensure that they are secure enough for the workout.