In an announcement with massive consequences for the human race, astronomers say there are "probably about one hundred" planets within just 30 light-years of our solar system which could support life along Earthly lines. By their calculations, there are tens of billions of such worlds in our galaxy, suggesting that even if life is very rare it is bound to have arisen elsewhere.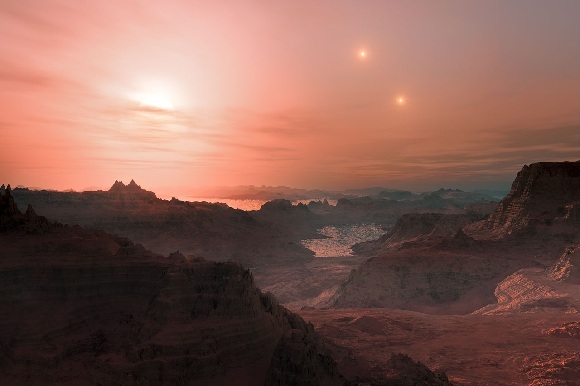 Pink skies may be much more common than blue ones.
The new astroboffinry involves examination of red dwarf stars - the most common type of star found in the galaxy - using the HARPS spectrograph on the 3.6-metre telescope at the La Silla Observatory in the mountains of Chile. The HARPS team surveyed 102 red dwarfs over a six-year period, discovering nine "super-Earths" (planets with masses between one and ten times that of Earth, thus probably rocky planets as opposed to gaseous ones). They were able to measure planetary mass and orbital distance from the parent stars.
The methods used could discern only a proportion of planets which exist, and the team's calculations applied to the results indicate that in general approximately 40 per cent of the red dwarfs in the Milky Way should possess an Earthlike, rocky planet lying within their "habitable zone" - that is orbiting at such a distance as to permit the existence of liquid water on the planet's surface.
"Because red dwarfs are so common — there are about 160 billion of them in the Milky Way — this leads us to the astonishing result that there are tens of billions of these planets in our galaxy alone," enthuses Xavier Bonfils, lead boffin on the investigation.
According to a statement issued by the European Southern Observatory announcing the research:
As there are many red dwarf stars close to the Sun the new estimate means that there are probably about one hundred super-Earth planets in the habitable zones around stars in the neighbourhood of the Sun at distances less than about 30 light-years [ten parsecs].
The implications are immense, as these hundred worlds are so close that it is possible to imagine ways of sending spacecraft to them - though such journeys would take many decades or even centuries under current assumptions. The prospect of interstellar colonisation - a staple of science fiction - has become hugely more likely.*
Perhaps still more importantly, the prospect of such worlds across the galaxy in the tens of billions suggests that even if the appearance of life on watery worlds is extremely unlikely, it has probably occurred somewhere else as well as here on Earth. We could be looking at one or two worlds with some primitive slime in their oceans, or thousands of aggressive star-conquering alien empires (who could - given the distances and numbers involved - all be unaware of each others' existence) but we're much less likely to be alone than we thought we were last week.
No matter what, this would seem to be a clear wake-up call to humanity to pull its head out of its - erm - navel, and look outward to the other zero-point-nine-recurring of the universe. It's not just pretty lights in the night sky: it's potentially home one day to the vast majority of human beings who will ever live - and perhaps to lots of other people too.
We could well find out more in the near future.
"Some of these planets are expected to pass in front of their parent star as they orbit — this will open up the exciting possibility of studying the planet's atmosphere and searching for signs of life," says Bonfils' colleague Xavier Delfosse.
Readers with enough under the bonnet brains-wise can get the new research papers in pdf here and here courtesy of the ESO. They appear in the journal Astronomy & Astrophysics. ®
Bootnote
*Of course these worlds may - probably do - lack any life at present, and as such humans couldn't live on them unassisted right off. However, they would present a much less hostile environment than most extraterrestrial ones straight away, and seeding them with suitably-adapted Earth life to create truly habitable worlds would be a trivial matter compared to getting there in the first place.