iOS App of the Week There's no end of messaging apps available for the iPhone and iPad, not to mention the built-in email and SMS/IM apps included in iOS itself. But that over-abundance of apps can actually be something of a problem: you can often find yourself fiddling with multiple apps and services when all you want to do is fire off a quick message with the minimum of fuss.
TopWrite is an attempt to simplify that process. When you launch the app, it displays a very basic text box into which you can type a message. The only other features on show at this point are a character counter and a Send button at the top of the screen.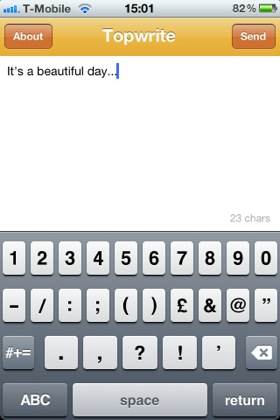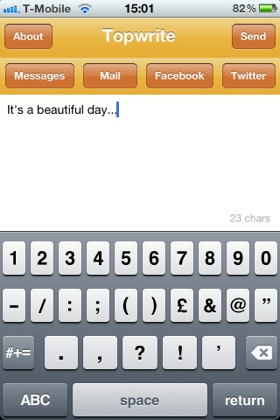 Type a message (left) then send it any of four ways (right)
Once you've finished typing your message, you hit the Send button and TopWrite then provides four separate options for dispatching it off: send it as an email or text message, or post it online on Twitter or Facebook.
Once the message been sent, TopWrite allows you to delete it and start a new message, or you can go back to the original message once more and resend it by another route. That's handy, as you can send someone both an SMS and an email in order to make sure they pick up the message as quickly as possible, or simply carpet-bomb the entire internet through Facecrack and Twitter.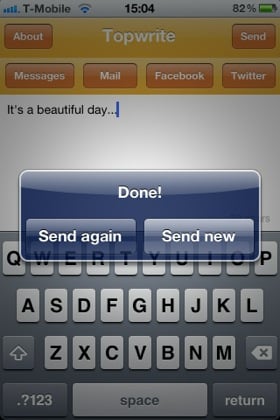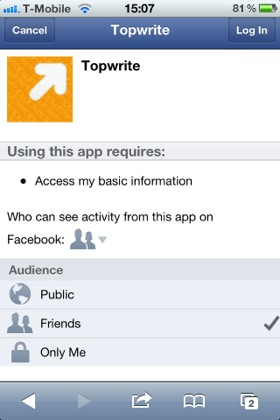 Sent it once, send it again (left) - by Facebook, perhaps (right)
The simplicity of TopWrite is its great strength - the app is very quick and easy to use. However, a little further refinement wouldn't go amiss. You don't get an option to delete a message until after you've actually sent it, so I'd like a 'trash' option that would allow me to instantly delete the current message if I want to.
It'd also be nice if you could configure TopWrite to work with other messaging and social networking services, such as Microsoft Messenger, which seems to be popular with the younger members of my family.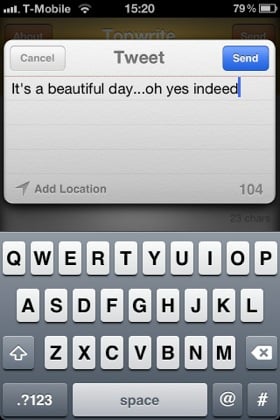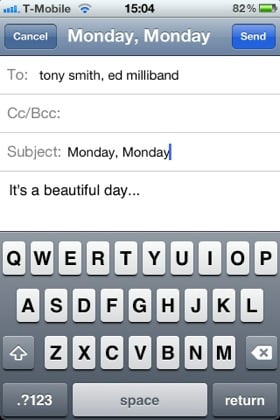 Or by Twitter (left) or Email (right)
I'm not a huge fan of Twitter myself, but I do like being able to quickly switch between text messaging and email within TopWrite, and that alone ensured that this app saved me some time and soon earned back its 69p purchase price. ®
We make our selection of the best iPhone, iPod and iPad downloads every Thursday. It you think there's an app we should be considering, please let us know.
More iOS App of the Week Winners

Apple iPhoto
Adobe
Photoshop Touch
Poynt
Ten iOS Games
Grid Lens

TopWrite
Quick and easy utility for sending text through multiple messaging systems.
Similar topics