Apple CEO Tim Cook ranked number one among US CEOs in employee esteem, according to voluntary responses to a survey which asked the simple question, "Do you approve of the way this person is handling the job of leading this company?"
"What makes this list important is it's based on feedback from the CEOs' own employees," a spokesperson from Glassdoor, the "jobs and career community" that compiled the list, told The Reg. "Wouldn't you want to work for an executive that employees strongly support given how he or she is leading the company?"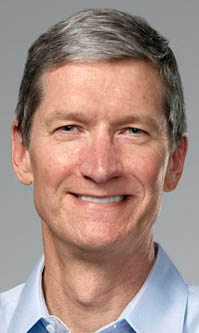 Tim Cook: 97 per cent employee approval
Interestingly, despite the adulation heaped upon his predecessor, Steve Jobs, Cook's 97 per cent approval rating is 2 points higher than that of the late Apple cofounder in last year's Glassdoor survey.
Cook was closely follow by two other tech CEOs whose names are frequently found in headlines: Google's Larry Page at number five, and Intel's Paul Otellini at number six.
Like Cook, Page's rank can also be compared with his predecessor, Eric Schmidt, from whom he took the CEO reins in January of last year. Unlike Cook, however, Page is not as well-admired as his predecessor, slipping to 94 per cent from Schmidt's 96.
Employees' opinions of Otellini – who was barely bumped out of the top five by Page – are improving: his approval rating rose by three points, from 90 to 93 per cent.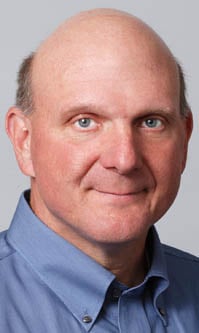 Steve Ballmer: 37 per cent and sinking
Also enjoying an improved load o' love from his employees was Oracle's Larry Ellison, who gained nine percentage points to achieve an approval rating of 81 per cent. A nice rise, but the merry yachtsman still only managed to be ranked at number 22 in the top-25 list.
And speaking of improvements, HP's Meg Whitman squeaked onto the list at number 24 with an 80 per cent approval rating. While that may not sound too stellar, it's a significantly better showing than her predecessor Léo Apotheker's meager 67 per cent the previous year.
And Apotheker's forerunner, Mark Hurd? The disgraced HP CEO whose "you can't fire me I quit" resignation left the CEO chair open for Léo, and who shortly thereafter went to work for Ellison, scored a measly 34 per cent, the Glassdoor spokesperson told us.
That 34 per cent put Hurd within range of another prominent tech CEO: Microsoft's Steve Ballmer. When we noticed that Ballmer was nowhere to be found on Glassdoor's top-25 list, we asked about his ranking. "Ballmer received a 37 per cent approval rating over the past year, down three points from the year before," we were told.
The full Glassdoor "Top 25 Highest Rated CEOs" list, which will be published on their blog this Friday, is below.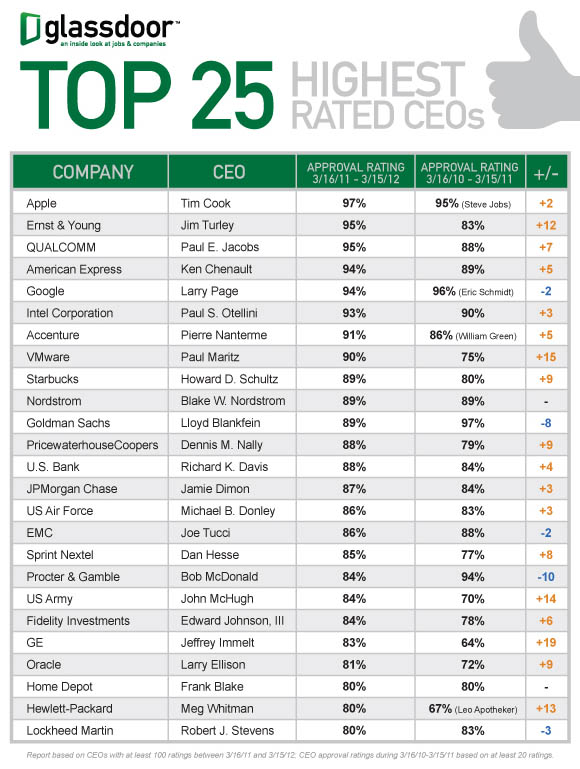 ®