This article is more than 1 year old
Digitech iPB-10 guitar effects pedalboard for iPad
Kerrang!
Review When the Digitech iPB-10 arrived, I duly dispatched an e-mail to a muso mate with a link to this ultimate iPad guitar pedalboard. The wag replied: Nice machine you're reviewing, but I don't know whether 87 pedals, 54 amps and 26 cabinets is quite enough for me...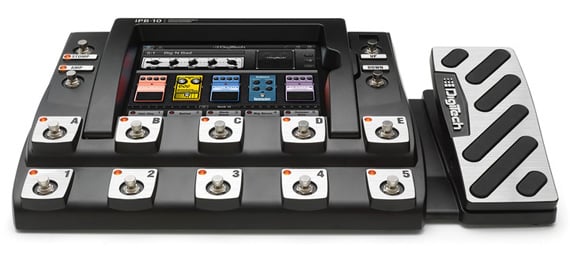 Heavy metal: Digitech's iPB-10 features a cast alloy build to withstand serious stomping
Now those dizzying figures would have most people assuming that there's a load of preset dross in there, but what makes up those numbers is an extensive roster of acoustically modelled gear from both past and present. You use these building blocks of axeman ecstasy to create custom programs and there's 100 truly impressive factory tones to get things going. Furthermore, the My Tones library can store an unlimited number of user programs that you can pick and choose from.
Stomp through the banks and you come across names like Rhapsody and Gilmour hinting at songs and artists that, from the first note, leave you in no doubt that this is a serious piece of kit. A solid lump of ten hardware stomp switches along with a wah/volume pedal, the Digitech iPB-10 is in a different league to the basic app and cable combo for jamming on your iPhone such as IK's AmpliTube/iRig or Griffin's iShred/GuitarConnect. At the heart of it all are two dedicated effects DSPs with the iPad on GUI duties – its screen displaying the configurations of up to 10 pedals along with an amp and speaker cabinet available for just one program.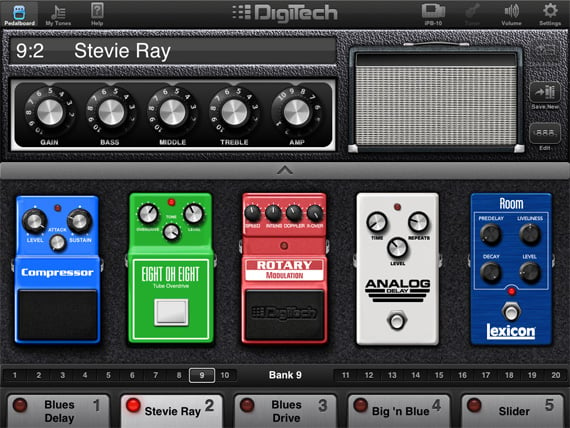 Twenty banks with five programs per view delivers a hot 100 setups you can can stomp through
First things first though. You do need an iPad – any iPad. And you need to download and instal Digitech's free iPB-Nexus app.
The iPB-10 has a short integral iPad dock cable – which is the only fondleslab connection you need to make. There are two plastic inserts to suit the different iPad casing styles. You undo two screws to swap them over and the extra thickness of the new iPad shouldn't be an issue here. A hinged frame snaps shut around the tablet to keep it in place.
Plug in and power on and you can begin with the fancy footwork. This does take a bit of familiarising though. The bottom row of five numbered footswitches each relates to a program shown at the bottom of the iPad screen. Hit one of these and you switch from some sizzling solo stack with fuzz and flangers ablaze, to some mellow clean combo with just a smattering of chorus and cascading delays. Audibly, it's instantaneous although the display takes a blink to refresh between programs.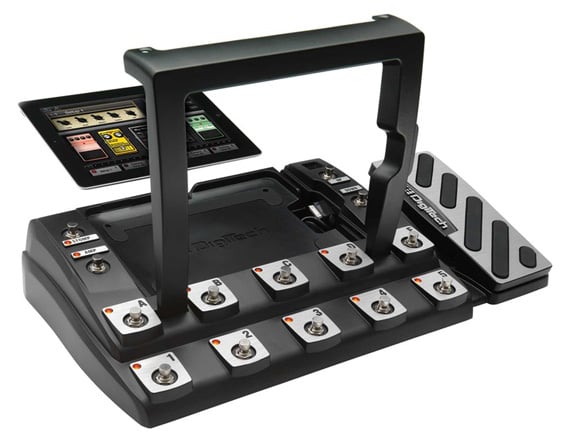 Compatible with any iPad and even works without one if you can remember the program numbers
In short, the numbered pedals change the entire program and to get beyond the five that are showing, you hit the Up and Down switches next to the expression (wah/volume) pedal to move through the banks. The row of five lettered switches above change the individual pedals so, for instance, you can click an phaser off and on and retain all the other aspects of the preset. Given that you can use up to ten effects – but can only see five at a time – you have to decide which ones you want to have control of from a footswitch.