Digitech iPB-10 guitar effects pedalboard for iPad
Kerrang!
---
Pedal power
This isn't as bad as it sounds as you probably won't be using 10 effects that all require toggle activation – think EQ, compressor, noise gate. Even if you did, then it would be possible to duplicate the preset and have effects assigned differently to pedals A to E – a simple drag and drop operation.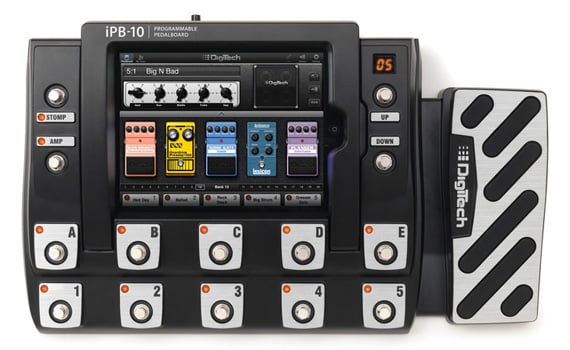 The lettered footswitches relate to the effects pedals showing on-screen
While all this is all perfectly logical, it takes a while to get your head round the fact that these large footswitches relate to five small pedals and five named presets below them. Apart from the middle switches, the iPad icons and the footswitches don't line up at all. Aesthetically, you can see where Digitech is coming from – plastering each pedal with a letter ABCD or E would look awful, as would some snaking lines to point to the physical switch for each effect. Likewise, having the switches closer together wouldn't work either, so you just have to learn the layout.
Two switches to the left of the iPad screen deal with external devices so that you can introduce an amp or a favourite pedal (stomp) or two into the effects loop. A nice touch is that you can insert these two options anywhere in the signal chain of virtual devices by placing the Amp or Stomp icon in between the pedals in your configuration. The expression pedal defaults to switch between volume and wah duties and even has a calibration feature in the app settings section. Incidentally, you get three wah types too, each offering distinct colourful resonances.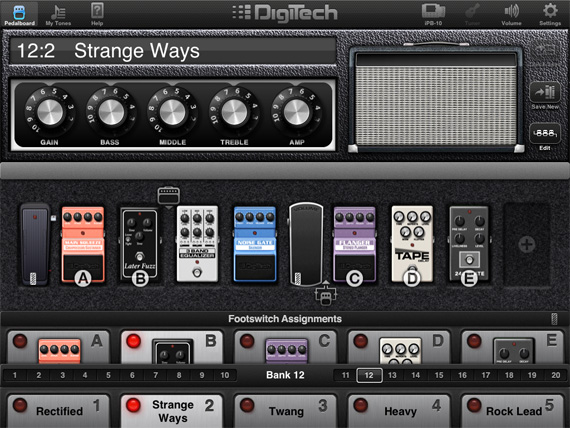 To rearrange assignments simply drag and drop an effects pedals to a lettered footswitch while in Edit mode
Click for a larger image
Having the iPad display this effects array certainly avoids squinting at some cryptic pedalboard screen to initiate changes. Indeed, the whole process of stringing together effects and saving presets is quick and easy to manage. You want a different amp? Just tap on the one showing and the My Gear window appears with a lengthy row of amp heads to choose from, including Dreadnaught [sic] and Jumbo options that transform electric guitars into acoustic emulations. The same tap and choose approach goes for the speaker cabinets too.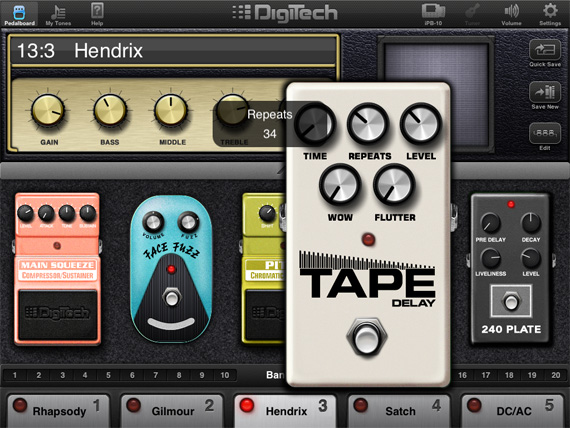 Dialling in changes is made easier if you double tap to enlarge – the pop-up shows the parameters too
Selecting and swapping pedals around is slightly more involved. The iPB-Nexus app has icons for different functions in light grey along the top of the iPad screen. On the right side are those for saving custom presets and the edit option for the effects assignments. Here you can see all the pedals lined up – and can rearrange, add or remove them as necessary.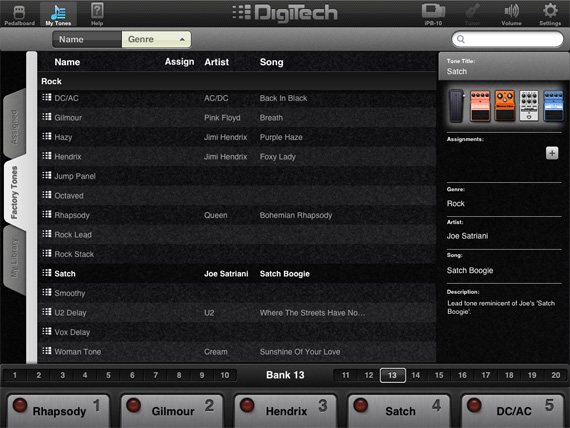 Sort out assignments and sift through the factory and user presets on the go from the My Tones library
Click for a larger image
Get out of edit and you can make changes to the dials on display – a double tap on an effects pedal enlarges it to make knob twiddling easier. Indeed, making changes on-screen is very responsive and an additional values box appears so you can view alterations more precisely. At this point you might be thinking that there's an awful lot of crouching going on as you tweak pedals and amp settings from the iPad screen with the iPB-10 on the floor. While that is certainly true, the iPB-Nexus app does allow you to make changes without being tethered to the iPB-10 pedal board.