This article is more than 1 year old
Digitech iPB-10 guitar effects pedalboard for iPad
Kerrang!
Session player
Admittedly, you won't hear a sound, but it helps become more familiar with the app, scroll through all the available tones and even string some new ones together to try out later. Moreover, if you already have a stack of custom presets that you need sort through and put in order for a gig, you can even do this in the van on the way there.
One last thing on the pedals, a single tap on one brings up all the available effects for that particular group. For instance, the modulation listing goes on for miles, but there are only five reverbs – one spring, one plate and four Lexicon effects. And if you've never heard of Lexicon, let's just say, its reverb hardware and software has graced most of pop music's finest moments in the last thirty years.

Interfacing features ground lift and level matching along with USB audio functionality for recording
Click for a larger image
Talking of studios, the USB interface on the iPB-10 is not only for firmware upgrades from the NetUpdater application, but it also enables the behemoth to work as an audio interface with 44.1kHz/24-bit resolution. I hooked it up to Apple Logic Studio and made a big mistake that took a fair bit of headscratching to sort out.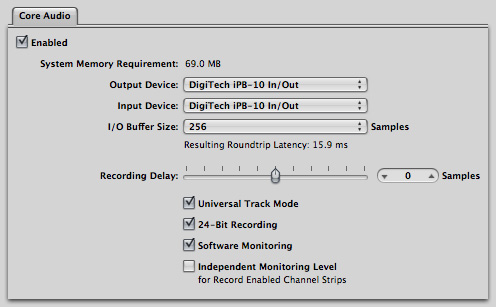 Works as a stereo audio interface too – shown here in Apple's Logic Studio
First, I set the Record Out level from the iPB-Nexus app and had a healthy signal, complete with effects, ready for track laying. For plumbing into a conventional mixer, not only do you get a standard line level output on 1/4in jacks, but there's a balanced output on XLR jacks to deliver a low noise analogue signal. So I monitored from the 1/4in output and turned it up full from the settings. And that's where I went wrong.
This settings slider is a balance control – it says 1/4in Mix – and varies the level from USB and the iPad. In use, the USB level is the return signal you get from your computer. The iPad level is the guitar output of the iPB-10. With this slider sat somewhere in the middle you'll be able to play along to existing recordings all monitored through the iPB-10.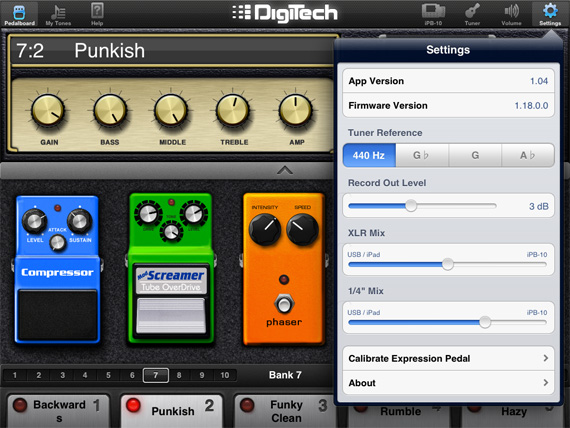 Just be sure to get the balance right
However, in my haste for fun-packed thrills, I'd shifted this balance control all the way to the right – in effect, iPad-only. So Logic's meters bounced up and down when recording the iPB-10 output, but I couldn't hear a darn thing on playback. To make matters more confusing, the headphone output has no balance control so you do hear everything from that. And even without music software, you can use the iPB-10 as your main audio interface so you can jam along with YouTube clips or anything else that takes your fancy.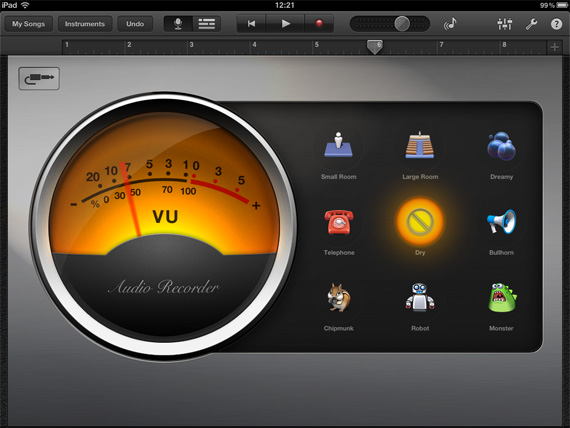 The iOS version of GarageBand will record the iPB-10 out – use the Dry option to record without this app's effects
Another surprise was you can even record to iOS version of GarageBand and other similarly equipped apps running within the iPad. I tried this out and it worked fine, but you need to choose the Audio Recorder instrument option and have it set to Dry, so no additional effects from GarageBand are recorded. This does involve a bit of flipping between apps, but once you have the iPB-10 sorted with the set-up you want, you can remain in the recording app and the pedals will still switch effects even though you are flying blind. And if you just want to practice and play along with some songs, iTunes on the iPad can run in the background while you let rip.