Digitech iPB-10 guitar effects pedalboard for iPad
Kerrang!
---
Setting the tone
I began tests on the Digitech iPB-10 with Reg Hardware's own trusty Yamaha Pacifica 120H – its humbuckers with coil tap switching giving a good tonal range to bring out the colour of the amp and chorus effects. Interestingly, there's no input volume level or any confidence metering on the iPB-10, but if you press and hold the active bank pedal, a tuner appears. And if you're struggling to hear anything don't forget there's a good old fashioned output volume knob at the back and, of course, the volume pedal.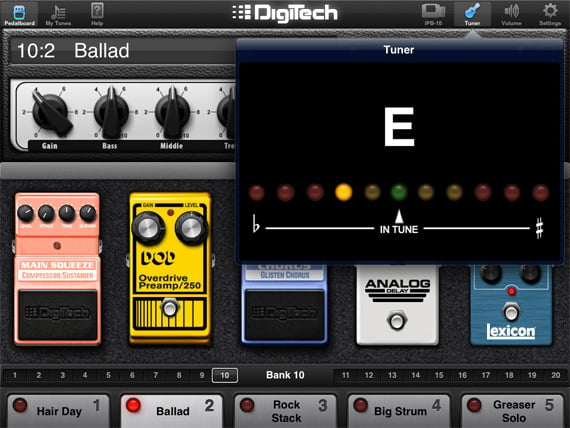 Press and hold the program pedal and the tuner appears
Without doubt, the presets are pretty much spot on if you play the riffs or styles associated with them. Rhapsody (as in Bohemian) really does have you sounding like Brian May with its tightly contained distortion and extreme gating. A thinly disguised Vox AC-30 amp also appears described as British 30 with its British 2x12 cabinet. Likewise, Gilmour superbly imitates the jangling chorus strumming in Breathe with compression and overdrive on hand to engage for the delinquent licks in Breathe (Reprise).
The amp heads aren't entirely faithful though, as they all have the same set of controls, so Marshall fans won't find a presence setting, but I doubt they'll miss it. Playing with the effects can leave hours of your life unaccounted for. The chromatic pitch shifter tracks notes extremely well and will bring out the repressed prog rocker in any guitarist – Owner of a Lonely Heart, anyone? There are analogue charms too, with old school delays featuring rapidly fading repeats along with wow and flutter controls for added realism.
As far as toetapping goes, my first complaint was to do with the expression pedal which was all too easy to switch modes going from warbling wah-wah to silence as the volume pedal engaged accidentally. However, much to my surprise, the pedal calibration function also includes switch pressure sensitivity that can be altered to suit your footwork. Brilliant.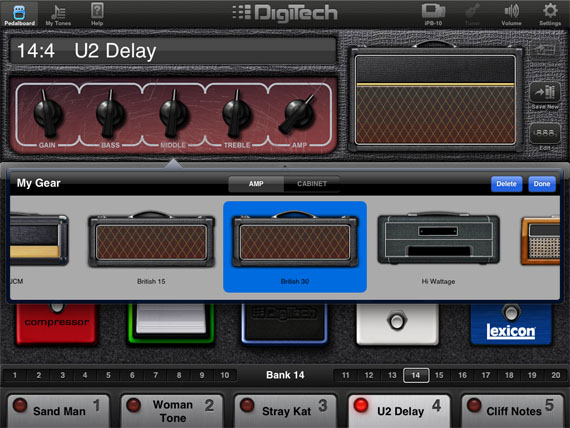 Amped up: the same controls appear on all the amp heads but they do the job with gusto
Click for a larger image
Next up, I plumbed in my US Fender Telecaster and invited a mate over for a second opinion who plays in a covers band. Having the sound of instantly recognisable artists and groups available at touch of button wasn't lost on him. Indeed, it's the level of detail that the iPB-10 offers that gives its emulations such authenticity. For guitarists, it's all about tone and the rich harmonic palette – of select amps combined with the unique honking resonances of specific speaker cabinets – that the Digitech delivers can be both subtle and striking, but certainly not samey.
I do have a couple of concerns though, the external PSU has a short lead and will all too easily get lost or mixed up with others somewhere down the line – I'd have preferred mains power, but no doubt there are safety reasons here. The other issue is having an iPad on the floor and exposed to the vagaries of stagecraft. It only needs a mic falling from the stand or a guitar strap coming undone to do some serious damage. A simple transparent cover – that can be detached or flipped open – would offer some protection from potential hazards.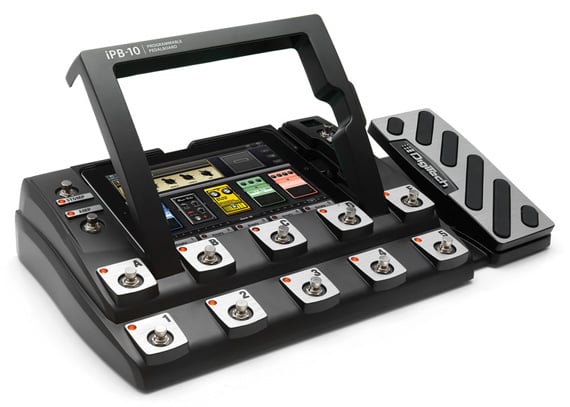 Apart from the iPad itself, the iPB-10 has it all... and a price to match
Verdict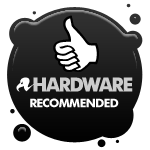 Without doubt, the Digitech iPB-10 is a dream machine for guitarists, but given its price – and the cost of an iPad too – that's all it is likely to be for many. Indeed, it is only the expense that impacts on its overall rating here, but shop around and you'll find it for just over £400. Of course, if you totted up the value of all the gear it emulates, then it seems like a bargain.
But as I sit here with it at my feet, I am flanked by a Vox AC-10 – which is getting on for its 50th birthday – and an early Peavey Studio Pro 20W that's just hit 30. I've owned both amps for decades and, while they aren't as versatile as the Digitech iPB-10, I reckon they'll be around for another 10 years or more. I'm not sure the same could be said of the Digitech. Rather, the iPB-10 is a different kind of investment. Even if its lifespan lies in the longevity of the iPad, for live and studio work, it certainly has the potential to be more of a money-spinner than lugging around an ageing amp is likely to achieve. ®
Thanks to Sound Technology for the loan of the Digitech iPB-10.
More Audio Gear Reviews

Mackie
Onyx Blackjack
USB audio interface
Pure
Highway 300Di
car DAB radio
Ten...
mini hi-fi
systems
Ten...
boomboxes
Colorfly
Pocket Hi-Fi C4

Digitech iPB-10 guitar effects pedalboard for iPad
Hardware pedalboard and iOS app combination that delivers astounding guitar effects, amp and cabinet emulations based on real gear.