This week really sucked down at the Low Orbit Helium Assisted Navigator (LOHAN) headquarters as we put the vacuum pump for our Rocketry Experimental High Altitude Barosimulator (REHAB) experiment through its paces.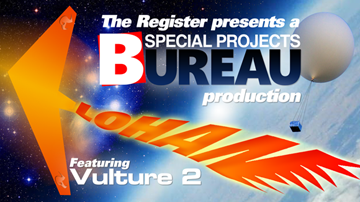 Those of you unacquainted with REHAB should have a shufti here for background info on our garden shed hypobaric chamber.
In summary, the experiment is designed to test potential solid rocket motors for our Vulture 2 aircraft at at low pressure and temperature.
The vacuum pump in question is a scrap fridge compressor suitably modified to suck the living daylights out of LOHAN. Here it is hooked up to a vacuum gauge and ready to roll (click on pic for a bigger version):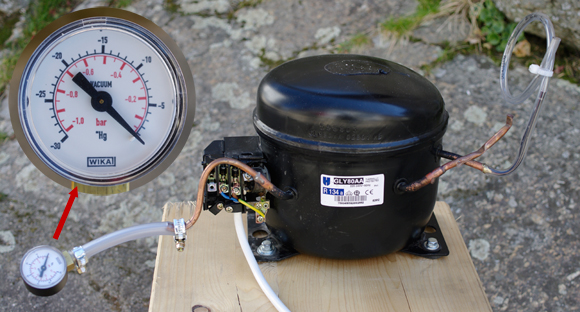 Note that the vacuum gauge dial is marked in bars and old school inches of mercury. It's connected to the suction pipe, behind which is the electrical connection box.
To connect the motor, we just had to ignore the thermostat send and return connections and hook the mains straight to the neutral and motor starter inputs.* A wiring diagram for the model in question proved invaluable.
On the far right is the discharge tube. The loop of plastic tube is just in case there was an unexpected ejaculation of lube from the compressor motor, which was a possibility if the compressor had been lying on its side.
The other tube is the "process", which is used by the factory to evacuate and charge the system. It's sealed in the time-honoured way of hammering flat and soldering the end, and since it looked in good shape, we left it alone.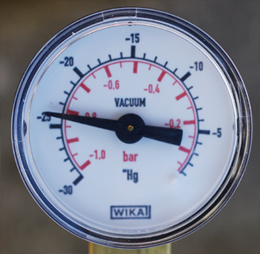 So, did it work? Well yes, to a point - that point being the one you can see on the right.**
It took the pump about three seconds to reach this maximum vacuum capability, running virtually silently and without any hint of oil or air leaks. It did, though, only have to evacuate a short length of tube, so we'd expect it to take a bit longer to empty the REHAB vacuum chamber.
Once switched off, the pump held the maximum vacuum, representing approximately 0.15 bar absolute pressure, for around five minutes. It took the gauge around forty minutes to return to "zero".
So, it's a pretty airtight set-up, but does it suck enough for our purposes?
By our reckoning, we're looking here at roughly the equivalent of an altitude of 13,500m, or 44,000ft under normal conditions. This vacuum is way short of the 15mmHg (equivalent to 76,000 feet) value we originally proposed for REHAB, but does it matter?
We're now asking ourselves, if the motor will fire at 44,000ft, is it safe to assume it will fire at, say, 80-90,000ft? We think the answer is yes, and that the temperature is likely to be a much bigger factor. As followers of LOHAN are aware, the REHAB experiment will use dry ice to simulate the lowest expected mission operating temperature of -60°C.
Further mulling on the vacuum situation is definitely in order as we get ready for the full-fat REHAB test. As ever, your thoughts and suggestions are welcome.
And speaking of the full-fat test, you'll recall that our CAD man Federico Buenadicha did some drawings of the experiment's hypobaric enclosure, so that the bits could be hewn from the living steel by a plasma cutter machine...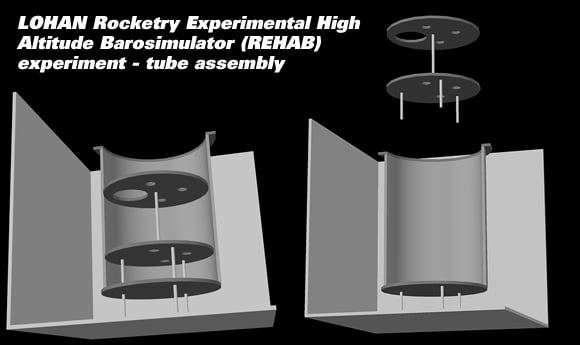 These turned up yesterday, and we're sure you'll agree they turned out rather well: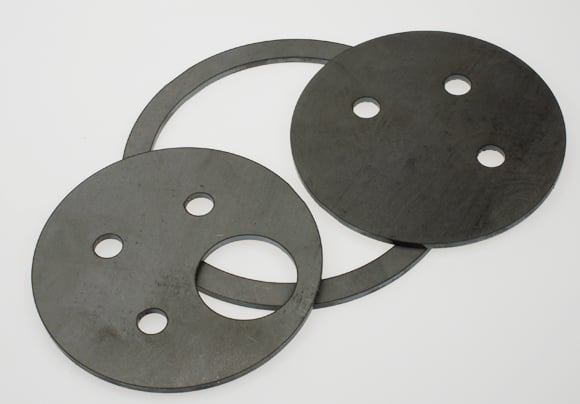 We're finally off to the metalworkers on Monday to get this lot welded together and the REHAB experiment assembled. Expect an exciting and spark-filled update next week. ®
Bootnotes
*Some compressor motors have three connections: neutral, live and a live motor start. Others have capacitors. The wiring diagrams can provide hours of fun for all the family, if you've got a nice head-scratcher of a model.
**There was actually a bit more vacuum than shown in the picture, but it had dropped a tad in the time between cutting off the power and deploying the camera. Note to self: Put correct lens on camera before beginning test.
Further LOHAN resources: