Freeview TV shoved aside for iPad-compatible 4G
Ofcom mulls 2018 frequency bump
---
Ofcom's latest wheeze for better wireless broadband in the UK is to bump Freeview down into the 600MHz space no one wants, enabling US-compatible LTE for anyone still using a new iPad come 2018.
As part of its ongoing efforts to satisfy the public's unquenchable thirst for mobile bandwidth Ofcom's proposal involves shifting the TV bands 96MHz down the dial, making more space for mobile phones in the band used by the American LTE deployments. That could happen in just six years, but at least the regulator isn't proposing to switch off TV entirely, not until 2030 at least.
The inevitable rise in mobile data consumption is an article of faith these days, and Ofcom's proposals (PDF, duller than it sounds) are based on smartphone users multiplying their consumption somewhere between 80 and 300 times in the next couple of decades. In fact, Ofcom argues, the only thing that will prevent our older selves watching several dozen streamed HD3D videos, simultaneously, on our mobile phones, is lack of sufficient bandwidth to do so.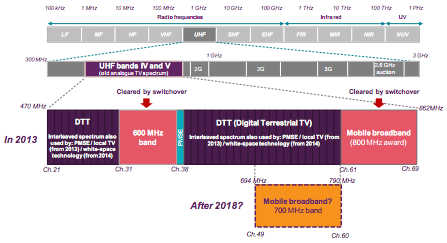 The proposals don't include any concrete plans for releasing more bandwidth, although there is a list of places we might consider looking, but it does suggest that moving Freeview down the dial would release some frequencies used for LTE elsewhere in the world, and fill the other digital-dividend band which no one seems to want.
Digital television squeezes more channels into less radio spectrum than analogue, so part of the UK's switch to digital involved contracting the band used, leaving gaps at the top (800MHz) and bottom (600MHz). 800MHz is standardised for LTE (4G telephony) across Europe and will be auctioned off as part of the 4G mega-auction, but in the US they've deployed LTE at 700MHz where we're still watching TV. So the new plan is to shuffle Freeview down the dial, to the bottom of where analogue used to be, leaving more space for LTE, and - more importantly - LTE which would be compatible with our friends across the pond.
Ofcom did consider simply contracting TV further, reducing the number of channels by half, and coverage by a few percent, then relying on better technology to make up both numbers. That would be risky, as the technology might not happen in time, so shuffling is preferred.
The other option is to switch off broadcast TV entirely, letting the internet take the strain as an increasingly fragmented audience undermines the efficiency of the one-to-many distribution model - but Ofcom reckons broadband won't be ubiquitous enough until 2030 so is holding off on that decision.
One might ask why a decision is needed at all: the next World Radio Conference, where 700MHz could be standardised across Europe, isn't until 2015 and YouView stands poised to change the way people watch TV (still... it's been poised for a while now). Ofcom reckons it's important to decide early, not least because all our roof-top antennas and set-top boxes are capable of picking up 600MHz right now and having a plan will ensure they stay that way.
Earmarking the 600MHz band for Freeview would also solve the problem of what to do with the frequency. 600MHz has all the propagation advantages that makes 800MHz desirable enough to drive network operators into the courts in the hope of reserving a slice, but the lack of harmonisation at 600MHz means equipment will have to be UK specific and that makes the band the spectral equivalent of Google+. Everyone knows where it is, people have taken a look, but no one wants to spend much time there.
If the plan goes ahead then the 600MHz band will be left empty for half a decade at least, and Ofcom is also asking if anyone has thoughts on what it might be used for: new TV channels with limited aspirations, thrown to the luvvies for wireless microphones/cameras, or lightly licensed for short-term point-to-point connections. The problem is that if the plan goes ahead then the band will have to be cleared again come 2018, making investment hard to justify.
The most-obvious solution is to throw 600MHz over to the White Space crowd for unlicensed use. White Space devices are designed to run alongside TV transmissions but will work even better when there are no TV transmissions. They're also required to regularly check in with an online database of available frequencies that would allow a band to be cleared in days, if not hours.
We would all get access to a decent swath of unlicensed spectrum to play with for the next six years, after which we might even decide we don't want to give that up so the network operators can stake a bigger claim on our airwaves. ®