Violin Memory flashes $50m wad from SAP
HANA in-memory database prospect
---
Flash array start-up Violin Memory has gained business software powerhouse SAP as an investor.
SAP Ventures and Highland Capital have joined existing investors Toshiba, Juniper Networks and others in injecting $50 million in a D-round of funding, bringing total funding to $150 million since it was founded in 2005. CEO Don Basile told a press briefing in Mountain View that the company was now valued at more than $800 million.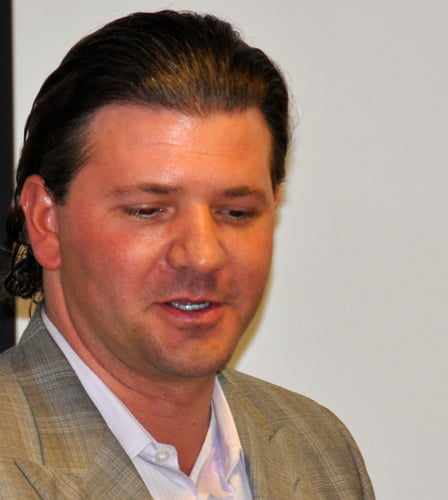 Violin Memory CEO Don Basile
Alongside its ERP and database products, SAP has an in-memory database product called HANA. Storing its data in a Violin Memory array would be inappropriate unless the array contained servers that could run HANA code with the array functioning as storage memory for these servers with a high-speed interconnect between the flash array and the servers.
There are indications from within Violin that this might happen. It's possible we could even see an ExaHANA-type product – eat your heart out, Oracle.
Gaurav Tewari, a director at SAP Ventures who will be joining Violin's board, said in a press handout: "IT leaders in the enterprise are embracing the in-memory database movement and the 'speed-of-thought' business benefits it brings." Hint, hint.
Big data and Hadoop
Basile's own quote in the release said: "At the intersection of big data, virtualisation and business critical applications, Violin's flash-based primary storage puts us in a unique position to capitalise on the hyper-growth of flash in the enterprise data centre. This is a multi-billion dollar market opportunity and the latest funding enables us to accelerate our aggressive go-to-market strategy and enhance our data management software portfolio to bring the benefits of Violin's technology to customers worldwide."
Basile said big data applications involving Hadoop could run faster and more efficiently with Violin's flash arrays as servers wouldn't wait so long for I/O. He could see the number of servers needed by Hadoop apps being cut by a factor of ten because of this, lowering the cost of a Hadoop-capable server-storage infrastructure.
Violin engineers are able to work with the next four generations of solid state chips from Toshiba
Violin has recently recruited a software chief technology officer, Jonathan Goldick, who confirmed that big data was of interest to Violin. Basile said that Violin, currently using 2-bit MLC flash in its 40TB 3140 and 32TB 6632 memory arrays, would be offering systems using 3-bit 19nm NAND from Toshiba in 2014, with signal processing technology being used in the controllers to help provide good endurance. The move to 3-bit NAND from 2-bit will theoretically increase array capacity by 50 per cent.
We could imagine, say, a 60TB 3160. Such increased capacity will help with big data applications, not least through lowering the storage cost/TB.
Basile sees an inevitable and unstoppable migration of primary data from disk drive arrays to flash storage. He is expanding the company and there are now 320 employees, a more than threefold increase in 12 months or less. He told the press audience that, because of the Toshiba investment and relationship Violin engineers are able to work with the next four generations of solid state chips from the foundry operator.
That presumably means they are getting sight of phase change memory chips from Tosh, or whatever else it reckons will succeed NAND, as flash will surely run into a technology brick wall three generations out.
IPO
With Basile being the ex-CEO of direct-attach flash card vendor Fusion-io, which IPO'd with a value of around $4bn, there are suspicions that he is looking for a $2bn-plus IPO and it might even be possible this year. However, surely, a 2013/2014 date would enable business to grow, using D-round funding to build out company infrastructure needed, grow revenues, and push the IPO valuation higher, perhaps to or past that magic $4bn point – eat your heart our Fusion-io.
Basile has Violin operating at a high pitch, the company being pumped up and on a roll. It wants to kill primary drive arrays in its market, relegating disk arrays to nearline storage. El Reg reckons that Basile's people are watching Pure Storage more than NexGen as the most competitive flash array startup in their market, and EMC's Thunder project may also affect Violin's plans.
Violin wants to use SAP, HANA and Hadoop to speed it on its way. Big Data equals bigger Violin, bigger IPO, and membership for Basile of that oh-so-exclusive club of start-up CEOs who build companies worth billions. ®
Similar topics
Narrower topics