Collaboration Summit 2012 Amir Michael, manager of systems engineering at Facebook and a key player in the company's Open Compute Project (OCP), used his opening keynote at the sixth annual Linux Foundation Collaboration Summit to decry the current state of server-management code.
Michael said that too many server manufacturers – and the hardware vendors that support them – rely on competing and inefficient server-management technologies to differentiate themselves from their competition. These systems make efficient datacenter design and control a pain in the neck, and provide no real benefit to the end user.
"All these different vendors have different methods to control servers, and they sell on different management features," he said. "It's a big headache, so we're trying to create minimum base of management functions that's more efficient."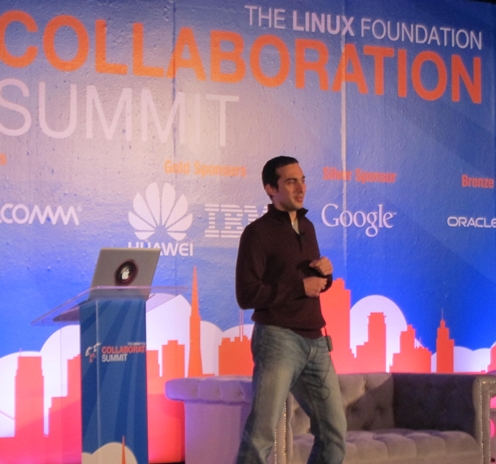 If it's not simple, Facebook doesn't want it
This is one of the key areas for the OCP going forward, he said, and one of six areas contributors are working on initially. Other areas include the Openrack project, which seeks to develop a common, highly efficient power source; a storage project to develop multiple connected hard drives; a virtual I/O system that doesn't rely on Ethernet; and new efficient datacenter and motherboard designs in which every nonessential component has been stripped out.
Michael appealed to the Linux community to get involved with OCP, promising no membership fees and totally open disclosure and sharing of information. The whole project is being funded by selling booth space at the twice-yearly Open Compute Summits, and he promised that no matter how big its booth space, no one company would be allowed to push its own technology onto the OCP standards process.
Above all, he argued, companies need to move away from considering datacenter design as something that is proprietary. By switching to OCP systems, Facebook was saving over a third of the power used by a standard data center, and its minimalist server design saved nearly a quarter of the hardware costs of traditional server racks by stripping out all non-essential hardware.
It's now almost a year since Facebook began pushing OCP as the way forward, and the idea has picked up some traction in the industry. Dell and Intel are firmly behind it, and other hardware vendors and data center managers are also showing support, with Digital Reality already publishing lists of which of its facilities are OCP compliant.
Judging from the warm applause from the assembled Linux glitterati, Michael struck a chord with the open source crowd. Facebook is pushing OCP hard to the open source community, since it needs a lot of clean, open management code – although how quickly this will translate into hard code remains to be seen. ®
Similar topics