This article is more than 1 year old
Hitachi GST lays 4TB Easter egg
Highest capacity enterprise drive
Hitachi GST has laid a nice Easter egg: a 4TB enterprise disk drive and a first at this capacity level. It's HGST's second 4TB product.
This 3.5-inch drive technology first surfaced in September when Hitachi GST launched its 4TB G-Drive external Thunderbolt product. Now it has updated its Ultrastar line, jumping from the 3TB 7K3000 to this 7K4000 product.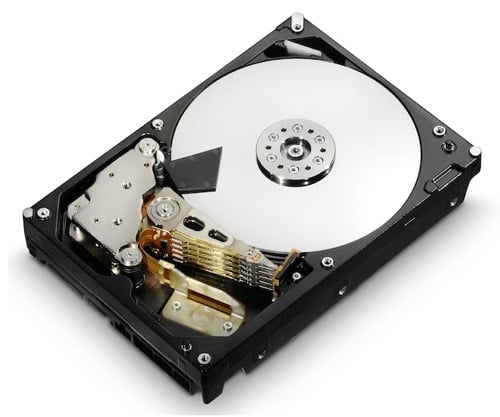 The 4TB Ultrastar 7K4000
Like the 7K3000, it spins at 7,200RPM, and has five platters each with a 800GB capacity and a 466Gbits/in2 areal density. There is a 64MB cache and a 6Gbit/s SATA interface. The sequential transfer rate is up to 171MB/sec.
Seagate and HGST parent Western Digital are still at the 3TB level with their internal drives, although Seagate has a 4TB GoFlex external drive and we suspect a 4TB Barracuda internal drive will spring up like an Easter bunny any day now. Toshiba and Samsung are at the 2TB level with their 3.5in technology.
Having a third more capacity in the same physical space is terrific. The drive also consumes 24 per cent lower watts per GB than the 7K3000 drive. Fill up a rack with these 4TB babies, with ten 4U 60-bay enclosures, and you get 2.4PB raw capacity. The drive has five power management modes, and has a 59 per cent reduction in power from peak usage during its low RPM idle mode, compared to the 7K3000, and uses less than 1W in its standby and sleep modes.
Hitachi GST's product marketing veep Brendan Collins was almost unctuous in his canned quote: "We are humbled by the fact that our enterprise customers continue to appreciate and value our broad portfolio of enterprise HDDs and SDDs."
Humbled indeed; dry those eyes Brendan, you have drives to shift. The 4TB disk is shipping in limited quantities now and customer samples are available. ®