This article is more than 1 year old
Intel outlines open source development projects
Connman has fingers in many pockets
Collaboration Summit 2012 The director of Intel's Open Source Technology Center Imad Sousou outlined the chip giant's plans to invest in the open source community and provided an update on two key projects, speaking at the Linux Foundation's Collaboration Summit in San Francisco.
Intel is fully committed to open source, Sousou explained, because it wants the maximum number of people using its hardware to the best advantage. The best way to do this is to join the community, and he said Intel was now the second biggest corporate sponsor of Linux, behind Red Hat, as well as being a board member of The Document Foundation, which produces the open source office suite LibreOffice.
"We want to end up with Linux supporting your hardware better than anyone else, so that we coevolve," he told his keynote audience on Tuesday. "Historically, we believe as technology gets better and more used, then the more Intel grows."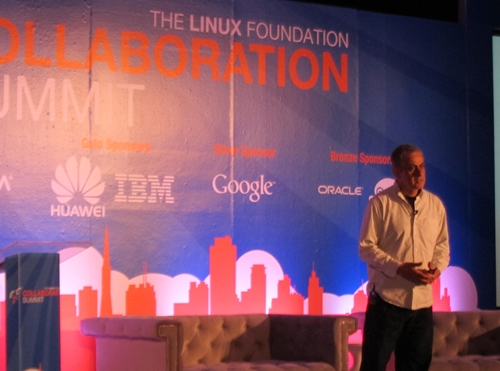 Intel's Imad Sousou touts Chipzilla's open source chops
He outlined current progress on a couple of projects that Intel and the Linux community are currently developing. The first, delightfully named Connman, is currently three years in development and manages internet connections, primarily for embedded devices. Sousou said the technology is currently in use in the mobile, automotive, and robotics industries, and is a good example of how the open source community can do things that commercial vendors can't or won't.
"We needed a very small connection manager that doesn't impose a user interface, not derived from a PC or desktop systems, that we could use with embedded and mobile systems," he explained. "We didn't find anything that existed that was suitable, and outside Connman that's true even today."
Intel is also working on the Yocto meta-project – another good cause with a silly name – that aims to build embedded Linux systems across a wide variety of platforms. Sousou said that Intel is investing heavily in Yocto, even though that means helping to develop systems for hardware from competitors such as AMD.
He told the assembled open source coders to advise their bosses that corporate sponsorship of Linux was a good use of company resources, rather than trying to sell them on the concept of open systems themselves.
"We want Linux to get better, because we all benefit from that," Sousou said. "But don't argue about the philosophy of it – one of the key reasons to support Linux is the business case." ®