A company that makes specialist talking tablet computers for speech-disabled children has mounted a patent lawsuit which seems set to kill off an iPad app that does the same thing for a tenth of the price. The firm is making no commitment to provide replacement affordable software for consumer devices.
Prentke Romich's Minspeak touchscreen devices enable mute children to communicate through a speech synthesiser controlled by an on-screen keyboard of symbols. Kids hit buttons to string together sentences: this kind of technology is generally known as augmented and alternative communication (AAC).
Prentke and patent holder Semantic Compaction Systems (SCS), began legal action against startup Speak For Yourself in February over its iPad app, which was designed by two speech therapists last year. Prentke says a dynamic keyboard of symbols and the ability to redefine these keys have been patented - and Speak For Yourself allegedly violates these patents.
If Prentke wins its case, it will force the removal of Speak For Yourself from Apple's App Store and ban the startup from earning any more cash from the software.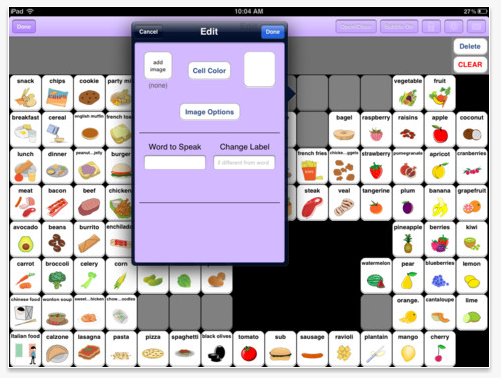 The Speak For Yourself iPad app
New York blogger Dana Nieder is one parent who bought a copy of the Speak For Yourself app; she has described how her three-year-old daughter, who has a speech impairment, started to use the Speak For Yourself app because Prentke's tablets were too big for her to hold.
And even if you throw in the cost of an iPad, Speak For Yourself's $299 app is much cheaper than the Prentke devices, which start at $2,595 but tend to cost over $7,000. Prentke also makes software for Windows, with basic typing programs starting from $225, for older kids and adults.
Nieder said Speak For Yourself's app is needed on the market as an affordable alternative to the more expensive dedicated portable hardware. She added:
I sent emails out (to users, AAC experts, and company reps) asking about whether PRC (Prentke Romich Company) was developing an app for the iPad, and the answer was a clear no.

For my daughter, the bottom line isn't about what happens in the courtroom, it's about what happens to her app. Her iPad, equipped with its special case and Speak For Yourself, is now her communication device. She doesn't care about who is making the money, or patent law, or big guys vs little guys - she cares about being able to tell me that she wants milk instead of water, or she wants to go to the zoo, or about who she played with at school.

She wants to be able to talk.
The Reg asked Prentke whether it had plans to make an iPad app, and a spokesperson got in touch to say:
Like most companies, we don't publicly share our future product development plans. However, we recognise the importance of consumer technology as a permanent aspect of the assistive technology field, and are planning to participate in a way that will provide solutions that focus on client outcomes.
The patent system and the way that tech companies operate within it has been criticised and mocked for years - who could forget Samsung's lawsuit against Apple over the use of emoticons, for example. But when patent litigation has the potential to affect the vulnerable, the debate is no longer a laughing matter. ®