Virgin Media tightens throttle on hardcore hogs
Bust the limit, lose half your downlink speed
---
Virgin Media has introduced new throttling "trigger levels" for customers who make heavy use of its network.
The telco updated its subscriber traffic management (STM) policy yesterday to "ensure the vast majority of customers get the high quality of service they expect from Virgin Media's fibre optic broadband without being negatively affected by extremely heavy users" at peak times.
It classified a so-called "bandwidth hog" as a 60Mbit/s customer, for example, who can download 5,000MB of data between 4pm and 9pm on a weekday before having their broadband connection throttled.
"During this time that customer would have to download 7 standard definition movies or 1,250 songs before a 5-hour temporary speed reduction was applied, and even then they can of course continue to browse the web and use services like the iPlayer without interruption," Virgin Media explained.
A company spokesman told The Register that around 5 per cent of users would be affected by the STM policy. Those punters can expect to see their speed usage of the network temporarily throttled by 50 per cent.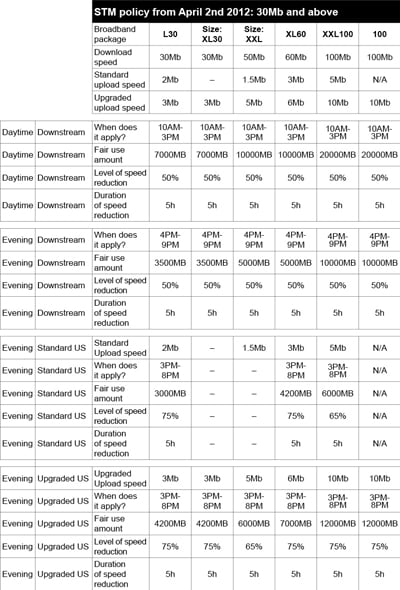 "Customers can still continue to use their services whilst having their traffic managed, however the temporary reduction in speed will help minimise the impact of their usage on other customers, ensuring more customers are able to enjoy their services at peak times," Virgin Media added.
The traffic that will be slowed down by VM during weekday evenings and weekends will be peer-to-peer and newsgroups. The firm said it won't be targeting, among other things, video streaming, music downloads and VoIP.
Virgin Media's spokesman added that it was being "very generous" with the amount of bandwidth it was allowing heavy users to access before applying throttling to those customers.
He also told us that the company was working on ways of making the current technology it uses to slow down speeds on individual broadband connections more "intelligent".
"We're conscious of the fact that the system might capture someone who has peaked only once," he told El Reg. It appears the tech itself will need to undergo more refinement.
Indeed, the telco has told users: "We'll be trialling a variety of different approaches to traffic management over the coming months to make the system more intelligent and flexible, while ensuring the optimal quality of service. We'll publish more information on this as soon as it's available."
Virgin Media runs two different types of traffic management: the aforementioned STM and protocol shaping, which affects all tiers of subscribers during peak hours.
Meanwhile, complaints about over-utilisation have begun to pile up on Virgin Media's customer forums.
One punter said: "It seems that we are getting to the point that Virgin are selling us an ever faster service but putting so many restrictions in place for peak time, that in reality, a lot of us would be better off just having a constant guaranteed 10Mbps unmanaged service rather than paying out for 50Mbit/s or 100Mbit/s. I can't see how this can ever be done fairly." ®
Bootnote
No doubt this move will spark fury or praise from punters - upload your thoughts to our new broadband forum right here.