Google shows off Project Glass augmented reality specs
Nerdy but nice
---
Google has been showing off the expected capabilities of the augmented reality spectacles that it is calling Project Glass.
The early concept designs show wire-framed glasses with a display above the right eye which shows off personal schedules and location-based information. Also included is a camera, a microphone for calls and voice recognition, a GPS, and (presumably) a wireless connector to make the whole thing work. The Chocolate Factory has set up a page on Google+ to get feedback and released a video about a ukulele-playing hipster to show how the glasses would likely work.
Google's announcement confirms rumors about the glasses, but also raises more questions than it answers. While the video and images released are all well and good, there's a long road ahead in terms of making something like this reality.
Let's start with the hardware. Project Glass is going to need a serious amount of grunt from its processor to handle voice recognition, along with a reasonable amount of memory and enough battery power to make the whole thing work for more than five minutes at a time. Apple's Siri struggles to do that on an iPhone and workable voice recognition systems need a serious amount of processing power to work.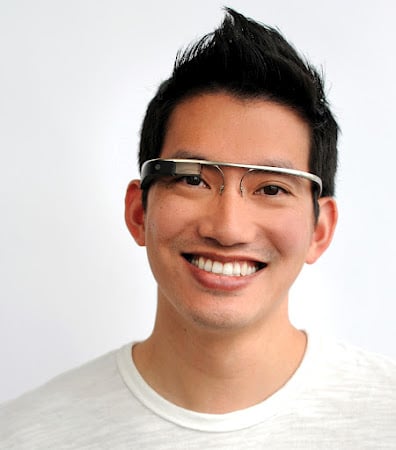 A Google engineer with his dream display
Without an internet connection the Project Glass specs are useless, so some kind of wireless system is going to be needed, probably a Bluetooth connection linked to the user's phone. This could shift some of the processing to a secondary device, albeit seriously limited by data transmission rates, but you're still going to need the display system on the glasses themselves, plus some compute and storage hardware to run the thing and a battery, which is a fair amount of weight to stick on your head.
The software side is an easier fix. Most of the code to do something like this is relatively easy, certainly on the information display side, but users would have to remember that the glasses aren't just for watching. They're also watching you. As El Reg has pointed out, such a system is both a goldmine for potential advertisers and a privacy nightmare.
But it is early days yet. Google has made it clear that this is only the initial stages of Project Glass and it is seeking feedback from the general public on what they want from these spectacles. While these kinds of heads-up displays are popular in films and fiction (and dearly wanted by this hack), the poor sales of existing eye-level screens suggests a certain reluctance on the part of buyers. ®