Blighty's new top supercomputer bagged by software boffins
Blue Big beast equivalent to 1 million iPads
The UK government is buying an IBM Blue Gene/Q supercomputer and iDataplex [PDF] servers, with DDN storage, to use in its Daresbury laboratory. The lab is used for developing software for next-generation supercomputers, presumably the exascale thingies needed for chewing through Really Big Data.
The funding and authorisation background is tediously and acronymically complex as is the way with these government bureaucracy purchases. The Department of Business Skills and innovation (DBIS - although UK.gov boringly calls it BIS) has £145m to spend in its e-infrastructure initiative.
£30m of that has been set aside for the STFC (Science and Technologies Facilities Council) Daresbury Laboratory's Science and Innovation Centre (SIC), in Cheshire, which is not known as the DSIC or, indeed, the STFC DSIC, or even the BIS STFC DSIC.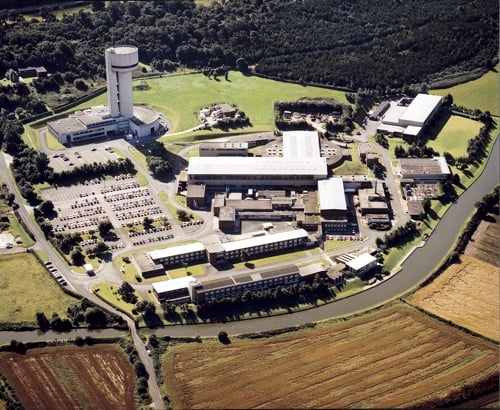 Daresbury Laboratory
The STFC and IBM have announced "a major collaboration that will create one of the world's foremost centres in software development", by launching the International Centre of Excellence for Computational Science and Engineering (ICE-CSE).
Right? So we now have the BIS STFC DSIC ICE-CSE and, yes, you will need a supercomputer to work out the acronym sequencing. To help we have devised an acronym of the acronym: BS DIC.
Anyway, this three-year collaboration is actually the STFC buying several (undisclosed) millions of quids' worth of Blue Gene/Q and iDataplex servers, and in there somewhere IBM is supplying 7.2PB of DataDirect Networks storage arrays: eight SFA 10K-Xs, each with 300 x 3TB disk drives.
Other Daresbury supercomputer component suppliers listed include ScaleMP, OCF, Intel, Mellanox and Nvidia. DDN storage is also being used by IBM in the square kilometre array ASTRON set-up.
The aim is use the hardware "to develop the necessary software to run on the next generation of supercomputers". A "collaboration" with IBM suggests either that the firm is gaining more from the deal than just the box sale or that Big Blue is sweetening the box sale with side benefits – it's not clear which.
Professor John Womersley, STFC's chief exec, said: "Our collaboration with IBM will allow industries to bring their problems to this centre, and to design, optimise and test new solutions on the UK's largest supercomputer. We are very excited to be working with IBM, and together we will establish a hub of innovation development to stimulate R&D based investment."
IBM UK and Ireland chief exec Stephen Leonard said: "The IBM collaboration with the STFC will give UK industry exceptional access to world class researchers to help unlock the potential of HPC."
The ICE-CSE will focus on so-called data-driven science and target software development for current and future supercomputer hardware systems, due within five to 10 years. It reckons this will require "an entirely new software paradigm".
The £30m funding of the ICE-CSE is being used to upgrade Daresbury's existing computing infrastructure and install computer systems for software development, demonstration and visualisation facilities.
To reassure us that it's not wasting money, the STFC tells us IBM was chosen after "a rigorous tender process" and gives us an IDC view that successful exploitation of high-performance computing "could lead to ... around £25bn per year in additional revenue to UK Treasury and more than half a million UK-based, high-value jobs."
STFC says the Blue Gene/Q system will race along at 1.4 petaflops, "which is roughly the equivalent of 1,000,000 iPads", and will be the most powerful UK-based supercomputer, as well as being "the most energy efficient supercomputer in the UK, being eight times more efficient than most supercomputers".
DDN reckons that the Daresbury system could enter the Top500 supercomputer list at number 10, if not higher. Watch this space. ®