Analysis RIM ended last week in more self-inflicted disarray. It announced a huge write-down of unsold fondleslabs, a sizeable operating loss, waved goodbye to its co-founder and its CTO, and then had to spend the next two days clarifying that it wasn't deserting its most loyal users.
All in all, that's quite a bad run. And everybody knows it's going to get worse. There's no shiny new kit running the brand new OS (BlackBerry OS 10) until November. Everyone knows this. But there's another problem. Unless the new RIM CEO receives a rapid course in Speaking Like A Human, people aren't going to recognise any good news when they hear it.
Reporters following the quarterly earnings call all decided that the big story last week was RIM pulling out of the consumer market. With the English rioting season fast approaching, it couldn't have been more badly timed. In the UK market it is consumers under the age of 25 who keep the BlackBerry flag flying – consumers who've bought the devices themselves. In fact, RIM isn't abandoning them at all – as the transcript confirms. But thanks to CEO Thorsten Heins' stunning lack of clarity, there was enough ambiguity to allow reporters to run their story.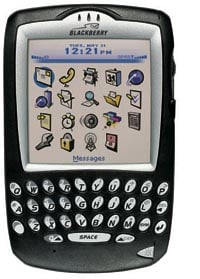 From the bakelite era:
the BlackBerry 7730 from 2003
What Heins actually said was: "We believe that BlackBerry cannot succeed if we try to be everybody's darling and all things to all people." That's the bit everyone quoted. He continued: "Therefore, we plan to build on our strengths to go after targeted consumer segments, and we will seek strong partnerships to deliver those consumer features and content that are not central to the BlackBerry valuable position, for example, media consumption applications."
He then explained that the consumer service acquisitions RIM had made were a bit lame, and would have to go. All of that translates to "We can't do it all alone" rather than "Goodbye, loyal customers!"
But I think reporters were numbed by the rest of the presentation. We used to have a name for this kind of spiel here at El Reg: Gwana Gwana. That's because as the executive is piling through the marketing clichés, Gwana-gwana is the last thing a reporter hears before falling asleep. Gwana is stored in hospitals for emergencies: when they run out of sedatives, they turn on a tape.
And Heins speech was straight from GwanaLand.
The CEO suggested that RIM would look to "integrated services offerings" around assets such as BBM to provide revenue. Hot on the heels of "integrated services offerings" came "full credit professionals", then "core strengths and value assets", a "unique value proposition", the trusty "seamless integration", "leveraging ... partnerships" and "strategic business model alternatives" and a promise "to drive excellence and operating metrics and efficiency".
I could go on, but you get the picture. That last part, by the way, tells you he has experience as a chief operating officer. The problem for RIM is that he has to stop talking and thinking like one. Customers and partners and future allies want a bit of confidence and vision, not obfuscation and prevarication. Heins sounds happiest saying that he's got nothing to say right now – it's under review. Sorry.
Where now?
So what might be under review? In other words, is there anything RIM can usefully do for its shareholders and customers between now and November?
The suggestion that RIM was exiting consumer markets was a damaging story, because in Europe, consumers are its most loyal customers. Enterprises in Europe were never won over in the same way they were in the USA, where the BlackBerry appeared to be mandatory. The BlackBerry was neat cultural fit for people familiar with pagers (no, really). It actually got on and delivered mobile email while the Europeans, with their much more advanced devices, were talking about it. But, reckons Asymco's Horace Dediu, that stopped in 2005. Since then, the real growth in RIM's business has been consumers. In the enterprise, as Heins acknowledged, people are bringing their own devices to work, and don't need another server alongside Exchange – if they need Exchange at all.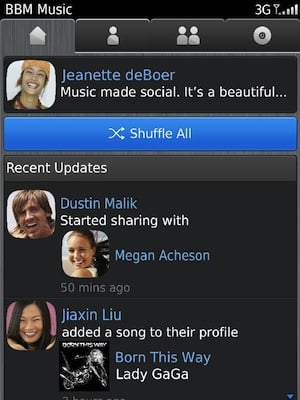 The music service builds on BBM – a social network
Meanwhile BlackBerry accidentally set up its own social network. Aren't social networks quite big right now? Wasn't there some movie about one? Perhaps somebody is selling some public shares in one of these obscure operations. I wonder what it's worth?
As I've written before, BBM is a social network in hardware – but it is actually more social and personal, more flexible and subtle, than the big web social networks. Well, the big two. For example, you can set up private closed conferences on the hoof. You could do this 20 years ago on terminal-based conferencing systems, but nobody does it in mobile, let alone integrates it so usefully into everything else on the device, such as sharing music.
So as the old business falls away, RIM has an extraordinary piece of good fortune.
It would be fatal to become yet another me-too touchscreen player, as there doesn't seem to be room even for a third player in that market today, let alone a fourth. But thanks to BBM, RIM has already 'moved up the stack', away from the basic communications business. It really needs to remove every other distraction from its strategy. Just forget everything else, for now, other than the hardware that makes its social network nice to use. How RIM gets this hardware out there – alone or with partners – doesn't really matter.

This means RIM must innovate around keyboards. I am amazed that RIM has never launched a landscape QWERTY format phone – the kind popularised by the Danger Sidekick and copied today many times over – in phones such as the Moto's Droid and now the Milestone, the Xperia Pro and the X10, and so on. On the drawing board there really should be really lots of such prototypes. The industry today completely neglects consumers' respect and thirst for clever and useful hardware design. It's churning out indifferent black rectangles.
Time's running out, though.
As Michael Mace, the former Palm and Apple marketing exec, points out in a thoughtful post, RIM isn't in such bad shape as Apple was in 1997, when it posted a billion dollar annual loss and saw its revenue shrink by half. But "sudden extinction events" are much more likely in markets with a rapid replacement cycle – like phones. RIM doesn't have, as Apple did, repro houses that will only take Apple files, and Quark designers who only know the Apple software. It does, however have BBM.
And RIM also has $1.8bn in the bank, which if it uses wisely, should be enough to develop the social network it already has. ®