There used to be a running joke – and perhaps one with more than a little truth to it – that one of the reasons the late Steve Jobs didn't split Apple's fast-rising stock was that he wanted to someday see it pass Google in per-share price.
Had Apple's co-founder lived exactly six months longer, he would have seen that day come to pass: at the final bell on Thursday, Apple closed at $633.68, and Google at $632.32.
Well, the NASDAQ exchange upon which both companies trade doesn't actually have a bell – that's the New York Stock Exchange's tradition, it being physical and the NASDAQ being virtual – but you get the metaphor.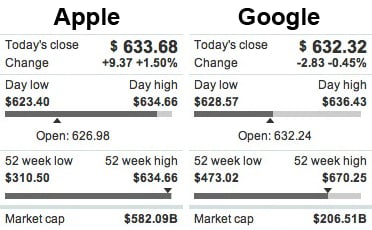 Apple and Google at close of trading on April 5, 2012
(source: MarketWatch)
Despite lapping the Mountain View ad merchant – if only by a buck and change – Apple has a way to go to match Google's top selling price of $714.87 per share, which it reached on December 3, 2007.
On the other hand, Google's total market capitalization lags far behind that of its competitor a few miles down US Highway 280 in Cupertino. At $206.51bn, it's a mere 35.4 per cent of Cook and Co.'s $582.09bn valuation.
And about that stock split. Apple's stock has split two-for-one three times since the company was first traded: in June 1987, then June 2000, then February 2005. When the markets closed on the day of that last split, the new shares were worth $44.86. That's a hair over 7 per cent of what they're worth today.
Now that Jobs has shuffled off his mortal coil, things may be changing in how Apple views its shares and shareholders. CEO Tim Cook, for example, already made one major move that Jobs never countenanced: Cook – and his board of directors, of course – instituted a share buy-back and dividend program in mid-March.
If Apple's share price continues its meteoric rise – one analyst gave it a 12-month price target of $1,001 on Monday – a split may, indeed, be in the cards.
But should a split not be in the offing, not even the most fervid of fanboise would predict that Apple's stock price could ever overtake the cost of one share of Warren Buffett's Berkshire Hathaway Class A.
That high-priced spread closed on Thursday at $121,945 per share. ®
Similar topics