IBM ramps up to catch up with undisclosed Netezza demand
Running out of boxes was 'great'
---
IBM has taken steps to ensure the growing demand for its Netezza data warehouse appliance doesn't mean that Big Blue runs out of boxes in 2012.
Arvind Krishna, the man in charge of IBM's entire information management portfolio, told The Reg he has increased manufacturing capacity for Netezza ahead of yet-more crushing levels of demand.
Krishna wouldn't detail how much IBM has expanded, but said: "We have Netezza stock back in... we have increased manufacturing capacity for demand.
"Without getting into details, you can think about how many sources of manufacturing, plants and skilled people do you have, shipping... maintenance and spare-parts depots."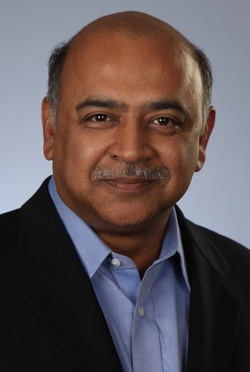 Krishna: Netezza demand is no problem
The information management software general manager said the number of Netezza appliances shipped in 2011 was double that pushed out in 2010 and he "expects more growth" this year. Krishna wouldn't give an exact growth forecast.
IBM chief financial officer Mark Loughridge revealed in January's fourth-quarter conference call that Big Blue had completely sold out of Netezza.
The appliances saw revenue growth of 70 per cent year-on-year and IBM claimed it had won around 85 per cent of competitive bids against, among others, Larry Ellison's Sparc boxes. Netezza and the information management systems are part of IBM's mighty software group, which grew 10 per cent to $24bn in sales last year.
It's slightly ironic for the division of a company responsible for making sense of information to have been unable to anticipate demand for its own product.
According to Krishna: "These are reasonably complex systems, so you do try and plan and build more than you think will get bought in the quarter, but the fact is demand was even higher than we expected - and that was great."
Krishna also pointed to the traditional pressures of making and shifting hardware: you don't want too many units sitting around getting old waiting for orders. Also, he spoke about the sheer physical logistics involved in arranging global shipping such as getting space on freighters.
He said: "One client wanted 10 racks delivered ASAP – that's 30,000 pounds when created - so [there are] slight logistics challenges. You can't deliver that over the wire - I wish you could!"
One reason for the Netezza's popularity, especially against Oracle's Exadata and Exalogic, is its simplicity and speed of setup for analytical warehouse loads, Krishna said.
"People want this appliance-like characteristic – stand up in a day," he said. "From what we hear from Oracle customers it takes weeks to get Exadata or Exalogic systems up and going. They might have a goal to be there but they are not there yet."
IBM bought Netezza for $1.78bn in 2010 and the unit has delivered clear gains for IBM in terms of revenue and access to a new set of customers.
To believe one can be monolithic, proprietary and closed and ... succeed is a foolish proposition. One has to embrace open source and work with an ecosystem
Krishna noted that for IBM, its acquisitions have to open up new buyers, allow IBM to speak to chief marketing officers, or plug holes in the company portfolio. If it's something that won't allow IBM to be defined as a leader in a given area, IBM steers clear, he said.
Asked whether IBM planned to make any deals on the software field in the area of big data and analytics, Krishna was cool.
"I don't know where I will buy something there or not," Krishna said of open-source and big data. "You can't just be a packager, you have to have deep skill."
Potential targets do exist with NoSQL support companies such as 10Gen and Couchbase and Cloudera or Hortonworks on Hadoop. These have the added twist of being open source, something IBM has opened up to over the years. It is also an area where Big Blue has already made a purchase: in 2005 it bought the Gluecode application server for its WebSphere stable.
Gluecode gave IBM a low-end Java 2 Enterprise Edition application server.
Instead, IBM is working with open source while building its own offerings. Currently there is InfoSphere BigInsights, which delivers Hadoop, HBase and Zookeeper – all under the Apache licence – with Netezza and IBM's flagship DB2 database. IBM last year announced plans to add graph store and key value store, staples of NoSQL, into DB2.
"Wherever open source is mature I will leverage it; I won't compete with it," Krishna said. "To believe one can be monolithic, proprietary and closed and ... succeed is a foolish proposition. One has to embrace open source and work with an ecosystem. Clients are looking to you to add value," he said.
As for NoSQL in particular, IBM's data and information chief seems to think it's more of a problem than a universal solution, and that events have to play themselves out before IBM makes a move – if it makes a move.
Krishna said he sees the potential for three pillars of data-based computing: SQL – to give a language and syntax for programming; Hadoop – to provide a MapReduce semantic; and a third pillar which is yet to be decided upon. That could be a MongoDB or HBase, but the market will pick a winner. "There's a whole set: one will survive," Krishna said. ®