This article is more than 1 year old
Netgear Powerline Nano 500 Ethernet-over-mains adaptor
Mains-line networking
Review When a vendor puts a colour-coded performance guide LED onto a powerline Ethernet product and admits that "best" throughput - the light is green, natch - is "greater than 80Mbps", you immediately realise how big a gap lies between the technology's reach and its grasp.
Netgear's latest adaptor, the XAV5101 500 Nano, is labelled "Powerline AV500 Gigabit", which will suggest to some that it can do 1Gbps. Or maybe that 500 tells you it's capable of 500Mbps.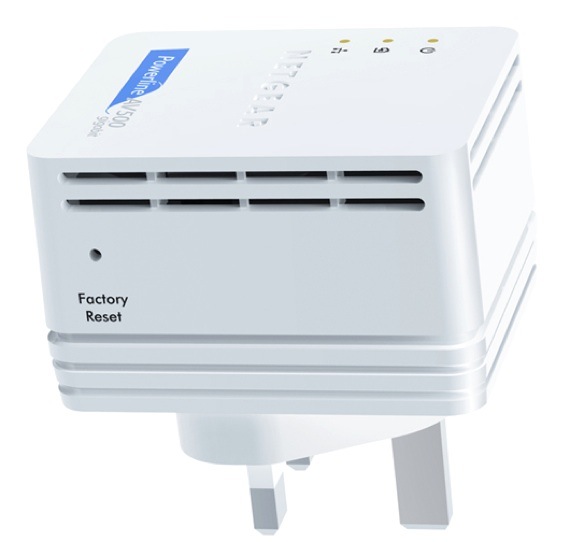 The Nano 500 is much more compact than past Powerline adaptors
To clarify, the world "Gigabit" is there because the Nano has a 10/100/1000Mbps Ethernet port on board. But, as the packaging reveals, the device has a maximum speed of 500Mbps. In the cheeky parlance of powerline networking kit makers, that speed adds the uplink and downlink speeds together - 250Mbps each way, in other words.
Either way, it's still a much bigger number than 80Mbps.
The Nano is compliant with the 200Mbps HomePlug AV specification which is part of the IEEE 1901 powerline standard, and it's this the delivers the higher speed. Bottom line: it'll work with most of the powerline adaptors out there, but not older HomePlug 1.0 devices.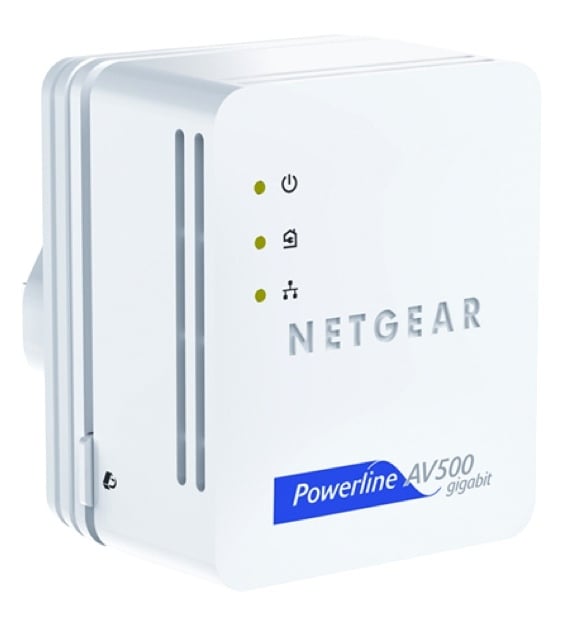 The lower two LEDs show the Powerline link speed grade, and whether the device is connected to a local Ethernet port
The Nano's other selling point, beyond speed, is its size. It's rather smaller than many a powerline adaptor being not so very much larger than a mobile phone power brick. So even though the Ethernet adaptor faces downward, there's plenty of room to get the cable in and out if you're using the Nano in a low-mounted power sockets.
It's a lot smaller than last year's XAV5001 adaptor - it's 67 per cent of the latter's volume - which offered the same spec. But it too sports a data encryption button which gives you two minutes to press the equivalent button on all your other adaptors, at which point they'll jointly negotiate and share a 128-bit AES encryption key.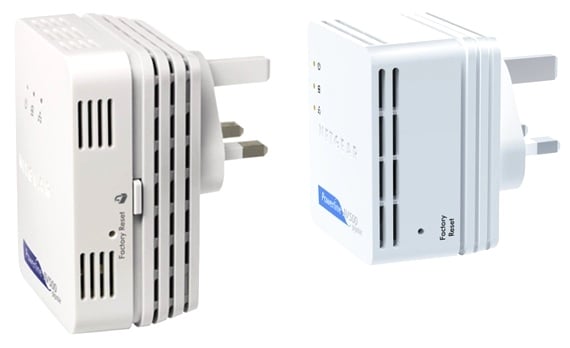 Netgear new and old: XAV5001 and XAV5101 back to back and to scale