Sergey Brin creates spectacle with Project Glass prototypes
Charity event snap shows lightweight design
---
Sergey Brin has been showing off Google's prototype Project Glass augmented-reality spectacles at a charity event in San Francisco.
On Thursday evening Brin attended a "Dining in the Dark" event for the nonprofit Foundation Fighting Blindness, and used the opportunity to show off the glasses that Google started publicizing earlier this week.
Brin was snapped by technology blogger Robert Scoble, who said the glasses looked functional, although he noted Brin was also carrying around a backpack the whole time.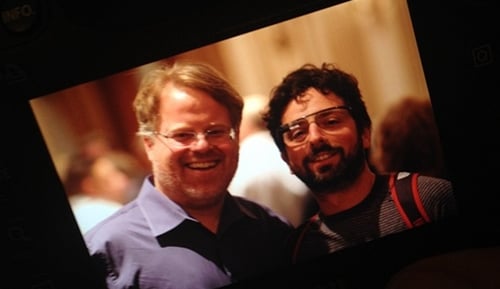 Brin shows Scoble the future of eyewear
"He quickly told me it is a prototype. I saw a bluish light flashing off of his right eyeball. I could only guess that my Google+ profile flashed up, or maybe some PR voice said 'stay quiet' or something like that," Scoble wrote on his Google+ page. "But the glasses are real. Very light looking. Most of the people around us had no idea that these glasses are pretty special."
The initial announcement of Project Glass was met with some skepticism, not least from this El Reg hack. The video demonstrated nothing much in the way of practical hardware, and Thursday night's publicity mission still leaves questions unanswered – notably, what was in that backpack.
In the meantime, the internet has reacted to Project Glass in the traditional manner: by mocking it. Tom Scott, part of the Sky TV's "Gadget Geeks" crew, made this little beauty pointing out some of the problems with Google's forthcoming glasses. ®