AV aficionado
Thanks to an f/2.0 aperture lens, a back-illuminated sensor and the ICS panorama capture facility the 8Mp camera fitted to the One X closes the gap on the best from Sony and Nokia. Even casual snaps look rather impressive and you get more shooting effects than you can shake a stick at and the ability to take still images while recording video. It's a fast camera too.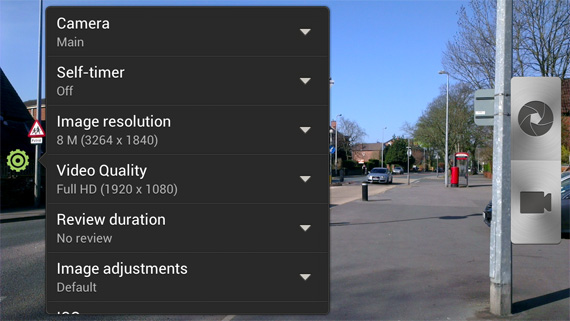 Easy access to camera settings
Talking of video the main camera shoots at the expected 1080p but the 1.3Mp webcam can record at 720p which is handy for capturing yourself in HD. Both output content as H.264 and the front camera also supports Skype.
As goes the visual, so goes the audible. This is a Beats Audio phone and the sound quality it produces knocks the Desire HD and the other-half's iPhone 4S into a cocked hat. The bundled Beats earphones are very impressive both in terms of sound quality and of comfort. Call quality is good and the single speaker is powerful and composed enough to make watching films without earphones a pleasant experience.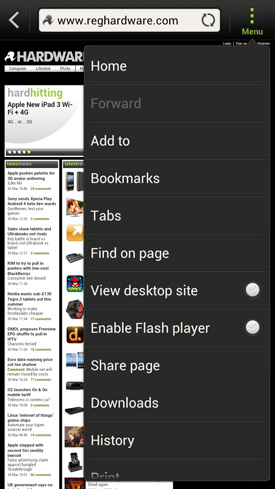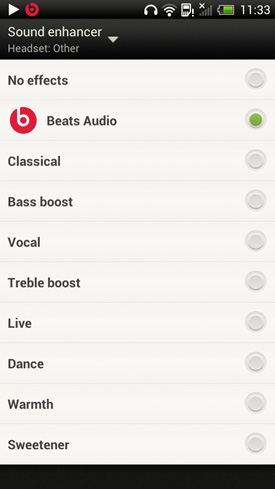 Plenty of browser options and Beats Audio settings
Chinks in the X's armour? Well, the Flash player didn't work until I found and installed a firmware update, the Wi-Fi radio sometimes took its own sweet time to connect and HTC's excellent e-book reader app seems to have vanished, which is a shame.