WTF is... UltraViolet
Cloud Nine or Hurt Locker?
---
Feature

We're all used to buying movies and TV series on disc. Many of us are accustomed to downloading films and shows from the likes of Apple's iTunes. A fair few of us stream video content from Netflix or Lovefilm. Wouldn't it better to combine all three into a single system?
Such a combo is what the Hollywood-backed UltraViolet is trying to become, and with the support of the best known content companies in the film business, plus retail giants like Tesco and Walmart; computing fims like Adobe, Microsoft, HP, IBM and Nvidia; IPTV players and broadcasters, including BSkyB and BT; streamers Netflix and Lovefilm; and hardware makers Panasonic, Philips, LG, Sony, Samsung, Toshiba and more - all members of the 75-strong Digital Entertainment Content Ecosystem (DECE) consortium - it's hard to see it failing to succeed.
Not that it's the only player in town. Apple's iTunes stands apart, back turned, arms folded, nose high. Indeed, it's unlikely to ever be a part of UV since it is one of the service's key competitors. So too are all the folk making disc rips available through Torrent sites.
The UltraViolet way
UltraViolet, which launched in October 2011, is pitched as a universal cloud-hosted movie library. The notion is that all your content - not just what you will buy but also what you've already bought - will be permanently available to you on the internet.
Buy a film on Blu-ray Disc and, once you've created a UltraViolet account, either directly at the UV website or through the disc distributor's online shop, and you'll be able to stream the content too, not just watch it on your TV using a BD player.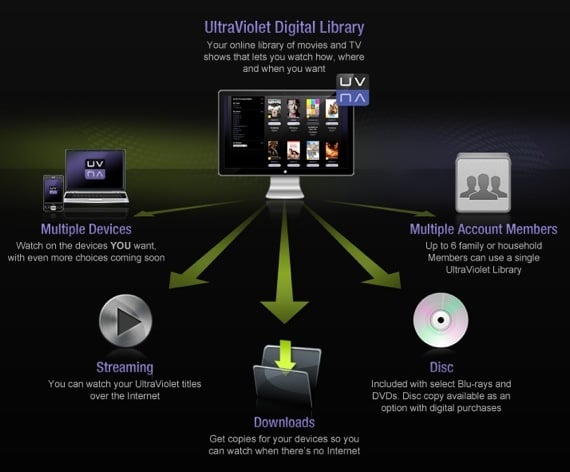 You'll be able to download it too, for offline viewing - handy if you want to take a stack of films with you to while away the hours on a long flight, say.
Delete the file deliberately or accidentally, and you'll always be able to re-download it. Or simply stream it to avoid having to find disk space for it.
If you're not collecting discs any longer, you'll be able to buy UV movies just as you would a download from iTunes, Vudu or Blinkbox.
How UltraViolet works
Behind this process is a framwork that combines file formats and digital rights management (DRM) technology, and a mechanism to connect cloud-stored licences to content owners' online archives.
UV accounts don't store the content itself, only the licence that grants the account holder the right to view the material. Stream a movie through a UV partner's website or their app, and the system confirms that you're allowed to watch it. It then initiates a stream, or download, from whatever server farm holds the video file.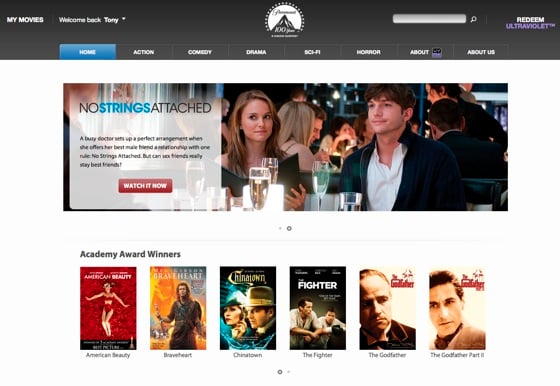 Paramount's UV store
There are two advantages here. First, content owners need only hold a couple of copies of each title, one in SD, the second in HD. Users' accounts don't accumulate copies of movies themselves.
Secondly, if a studio decides to offer, say, 4K by 2K copies, it can do so easily. If it likes, it could provide existing customers with access to those higher resolution files simply by updating their licences.