HP opens up public cloud beta in May
Cooks up block storage, database clouds
---
Contrary to earlier reports, HP is not yet ready to launch its first public cloud, and it is not rolling the HP Cloud Services in May as HP execs had hinted last month. What HP is doing, however, is talking a bit more about its public cloud – including new block storage and database services – and telling everyone that it is opening it up for a public beta next month.
HP Cloud Services VP of marketplace and ecosystems Thomas Ryan tells El Reg that his company will be shifting from a private beta of the HP Compute Services and HP Cloud Object Storage to a full-on, wide open public beta.
Well, almost wide open.
The private beta, which was opened up on a first-come, first-served basis and which has over 1,000 customers across all industries and company sizes, has been free so far. The public beta is going to sell compute at storage capacity on a utility pricing method, just like Amazon's EC2 compute and S3 object storage clouds, and with prices, even though it is still technically under beta testing, just like Amazon's EC2 and S3 services were for years.
Moreover, during the beta HP is putting some governors on the amount of compute and storage capacity tire-kickers can access.
"If you have a credit card, you can play," says Ryan, but there are capacity limits, "because if we are not careful demand would exceed supply."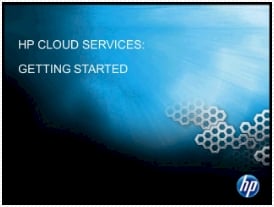 HP Cloud Services is based on the open source OpenStack cloud fabric created by NASA and Rackspace Hosting back in July 2010. The "Essex" release of OpenStack, which has five components, was just released last Thursday with 150 new features compared to the prior release.
The Essex release is what commercial Linux distributor Canonical is weaving into its Ubuntu Server 12.04 Long Term Support (LTS) release, due at the end of this month – and displacing the nearly open source Eucalyptus framework created by Eucalyptus Systems.
There are 150 companies behind OpenStack at this point, over 2,600 project participants, and more than 100,000 downloads – so you can see why Canonical and HP want to go with OpenStack.
OpenStack has five core components: the Nova compute controller (which hails mostly from NASA), Swift object storage (which came from Rackspace CloudFiles), Horizon administration dashboard, Keystone identity manager, and Glance image service.
The HP Cloud Compute service is based on Nova and the Object Storage service is based on Swift – but we knew that when HP Cloud Services went into beta last September. What's new today is that HP has a block storage service and a database service that it has developed in-house to add to OpenStack.
Ryan says that HP has come up with its own Cloud Block Storage analog to Amazon's Elastic Block Storage service that will complement the Swift service. HP is in the process of trying to figure out if and when to open source the code behind this Cloud Block Storage, but generally speaking, Ryan expects for HP to open source the code it uses on its cloud.
HP will also add a Cloud Relational Database service to the open public beta, a rival to Amazon's Relational Database service and similarly based on the open source implementation of the MySQL database that is more or less controlled by Oracle these days. The extensions that HP has made to MySQL to turn it into a database service are a mix of HP and third-party tools, Ryan says. The exact feeds and speeds of the database service were not available at press time.
HP is using the Keystone identity service as the guts for its own Cloud Identity service, which is also new with the public beta.
For caching and peppy content delivery on a global scale, HP is partnering with Akamai Technologies to feed data from its various (and undisclosed) cloud data centers. This service, to be branded Cloud CDN, will be available for purchase under the public beta, just like the Compute and Object Storage services, starting on May 10.
Built on ProLiant, Not CloudSystem
HP is not divulging how it is building its cloud, but as El Reg expected when riffing on the forthcoming HP Cloud Services when rumors were running around about what HP would do and when it would do it, the company is not building its public cloud based on its CloudSystem blade server configurations that it sells to enterprises for their private clouds. Ryan confirmed to us that the HP Cloud is based on good ol' ProLiant rack servers and various HP switches and storage.
HP is using the KVM hypervisor to virtualize the compute nodes in the HP Cloud Service, and according to its specs uses OpenStack to spin up virtual machines based on Canonical's Ubuntu 10.04, 10.10, and 11.04, as well as the RHEL-ish CentOS 5.6, with other operating systems being added down the road.
Virtual machines on the HP public cloud range from an extra-small with one virtual core, 1GB of virtual memory, and 30GB of local disk to a double-extra-large with eight virtual cores, 32GB of virtual memory, and 960GB of local disk.
In general, HP says that it will price Cloud Services on a pay-per-go method, with no minimum commitments and no long-term commitments, and with a pay-per-use scheme, meaning you don't have to pay ahead for capacity you may not use. Compute capacity is priced on a CPU-hour basis, and storage and networking are priced by gigabytes of storage and network bandwidth used.
The compute, object storage, and CDN services will continue to be free until May 10, and after that the private beta customers still using capacity as well as new ones setting up accounts will be charged for what they use. Those who participated in the private beta are being given a 50 per cent discount for an undisclosed amount of time beyond May 10 as thanks for helping in the beta.
An extra-small standard instance on the HP compute cloud costs $0.04 per hour, while the double-extra-large standard instance type costs $1.28 per hour. Storage and network pricing has not yet been set.
HP is not committing to a date when its Cloud Services will come out of beta and be generally available, and Ryan says that the company is showing "caution and prudence" as it brings what is arguably the first stable release of OpenStack out to market as a public cloud.
A platform cloud, not just virty iron
In addition to the database and CDN services, HP will offer platform-level cloud tools, including support for Java, Ruby, PHP, and Python programming tools, and a "full suite of web management and reporting tools." HP wants to create a cloud onto which both customers and software vendors alike who are looking for cloudy infrastructure to set up their SaaS offerings can deploy software.
HP is also counting on the fact that it has broader and deeper support expertise than Amazon in supporting customers who are not developers themselves, but end-user companies – and that it can charge more for this expertise. ®