Intel introduces 'Ivy Bridge'–ready chipsets
Four USB 3.0 ports, no waiting
---
Intel has announced that its new 7-series "mainstream" chipset family is now available and being used by OEMs in mobile and desktop systems for the current 2nd Generation Core processors today, and will be ready to support the "Ivy Bridge" 3rd Generation Core processors when they appear later this quarter.
In addition to the new chipsets, Intel also announced that it has added new 7-series motherboards to its mobo line.
When paired with Ivy Bridge processors, Intel says that the new "ultimate performance tuning" Z77 Express and "entry performance tuning" Z75 Express chipsets will deliver – what else? – "the ultimate PC experience."
That bit of hyperbole aside, the specs for these two 6.7 watt, consumer-level chipsets are solid, with support for four USB 3.0 and 10 USB 2.0 ports, 10/100/1000 Ethernet, 8 PCIe 2.0 ports, SATA speeds up to 6Gb/sec, and eSATA up to 3Gb/sec. Both chipsets also support RAID 0, 1, 5, and 10, and will be ready for overclocking with unlocked "Ivy Bridge" processors.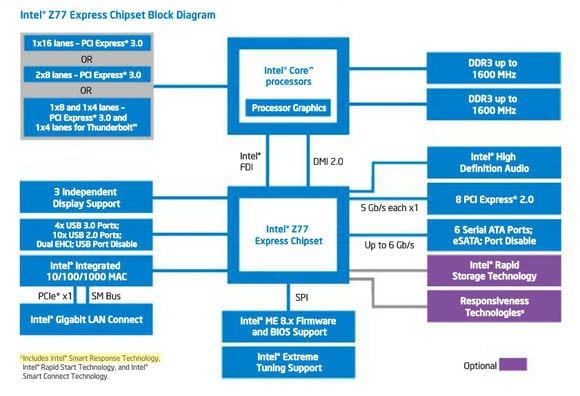 Remove one footnote (highlighted) and the Z77 Express becomes a Z75 Express
The two chipsets, both formerly code-named "Panther Point", are essentially identical, with the core difference being that the Z77 Express also supports Intel's Smart Response Technology (also supported by the current Z68 Express chipset for 2nd Generation Core processors), which allows an SSD to act as a cache for a system's hard drive, with both sharing the same "drive letter" identifier.
Smart Response, Intel says, "learns" which apps and files you use most frequently, and loads them onto your Windows Vista or Windows 7 machine's SSD for quicker retrieval and loading.
Green-minded users will appreciate the fact that both chipsets are manufactured with lead-free and halogen-free component packages. More details of the Z77 and Z75 can be found in a downloadable product brief. ®