Oracle has launched five new servers – three rackables and two blades – based on Intel's new Xeon E5-2600 two-socket server processors.
HP and Dell tried to jump the gun and get ahead of Intel's launch of the Xeon E5-2600s with their respective ProLiant Gen8 and PowerEdge 12G machines. But Larry Ellison's Oracle, a relative newcomer and admitted niche player in the server racket, laid back and waited until it was ready to ship products in volume to put its new Sun Fire rack servers and Sun Blade blade servers using the new Xeon E5s into the field.
Oracle didn't fuss with a big rollout shindig for its Xeon E5 server launch, but merely did a webcast announcing that its new iron was "the industry's best x86 platform for Oracle applications." Subban Raghunathan, director of hardware development at Oracle, and Bill Nesheim, vice president of Solaris platform engineering, provided most of the tech talk about the new machines.
The two-socket server is the workhorse of the x86 server industry and has been for more than a decade, although we are now seeing a resurgence in single-socket machines for dedicated web hosting and other hyperscale workloads where having fewer cores running faster is more important than other factors, such as memory capacity, CPU core count underneath that shared memory, and I/O bandwidth.
If you are thinking that Oracle might be interested in doing a microserver based on the new Xeon E5-2600s, their E5-1600 single-socket offshoots, or the forthcoming "Ivy Bridge" Xeons that are kickers to the current Xeon E3-1200 processors for workstations and microservers, well just forget it. In the Oracle webcast's question-and-answer session, Raghunathan put the kibosh on such an idea, saying that for the enterprise-class workloads that Oracle is aiming at – and by which he means running the Oracle software stack – these smaller machines just didn't have enough I/O bandwidth to be useful.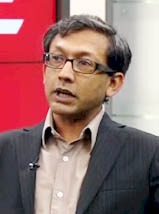 Oracle's Subban Raghunathan
talks Xeon E5 servers
Raghunathan said further that Oracle had no plans to support the "Socket B2" processors from Intel, which are known as the "Sandy Bridge-EN" inside of Chipzilla and which will likely be launched as the Xeon E5-2400 – that is, unless the plan changes. The Xeon E5-2400 processors are also two-socket machines, but they have only one QuickPath Interconnect (QPI) link between the two processors instead of the two between the Xeon-2600s, and less I/O and memory capacity.
Raghunathan would not discuss what plans Oracle might have to create a four-socket variant of the Sun Fire X4800 using Intel's not-yet-announced Xeon E5-4600. Both the E5-2400 and E5-4600 are expected to be launched soon.
Oracle is, of course, happy to talk about the five new machines it is announcing on Tuesday. There are three rack servers and two blade servers, with three machines in the regular x86 server lineup using AC power and two being in the ruggedized Netra line with a DC power option.
The Sun Fire X4170 M3 is a 1U pizza box that has 16 DDR3 memory slots that supports up to 512GB of memory using 32GB low-voltage registered DDR3 memory sticks. Oracle is supporting LV sticks running at 1.6GHz in 8GB and 16GB capacities, and running at 1.07GHz in 32GB capacities.
The X4170 M3 server has four Ethernet ports on its system board, just like the prior several generations of Sun iron. But in this case, the speed has been jacked up to 10 Gigabits for the first time. So not only is Oracle making 10GbE the default, but it is giving you four ports to play with in any network storm.
The X4170 M3 has six USB ports, and four PCI Express 3.0 slots – one x16 and three x8, to be precise, and one of those x8 slots is used for a SAS host bus adapter. The chassis can come with either 2.5-inch or 3.5-inch drives, and you can have eight small drives, four small drives and one DVD drive, or four fat drives. You can use 600GB SAS hard disks that spin at 10K RPM, 3TB SATA disks that spin at 7.2K RPM, or 300GB flash-based SSDs.
The Sun Fire X4270 M3 is based on a different two-socket mobo, and because it gets plunked into a 2U-high rack chassis it can allow for taller peripheral cards, have more peripheral slots, and hold more disk and flash storage drives.
You can have a dozen 3.5-inch disks stacked horizontally that eat the entire front of the chassis, or two dozen 2.5-inch drives that are arranged side-by-side vertically. If you want more airflow and less disk, you can get a chassis with eight drives (four columns of 2.5-inch drives) arranged along the bottom of the chassis with a DVD drive off to the right side. You can also plug a pair of 2.5-inch drives in its behind if you need a little extra capacity. The X4270 M3 has the same memory options, topping out at 512GB, and the same four 10GE ports on the system board. It has six PCI-Express 3.0 slots, one x16 and five x8.
On the commercial blade front, Oracle has cranked out the Sun Blade X6270 M3, which slides into the same Sun Blade 6000 chassis that the former Sun Microsystems announced years ago, before it was eaten by Larry Ellison. This two-socket Xeon E5-2600 blade has 24 memory slots, but Oracle is only supporting low-voltage RDIMM memory sticks in 8GB and 16GB capacities, so the main memory tops out at 384GB. Each blade has four SAS-2 interfaces to the blade midplane and has four 2.5-inch drive slots that can have either SAS disks or SSDs.
All of the I/O for the blade is externalized to an ExpressModule, and the network traffic is externalized to the Network Express Module; these plug into the Sun Blade 6000 chassis in the back and hook into the same midplane that the blade servers do. If you put a NEM 24P 10GbE switch module in the back of the chassis, you can provide 10GbE links to the blades.
All three of these machines have Oracle's Solaris 11 preinstalled unless you say otherwise, and you can get Solaris 10 update 10 (due any day now with tweaks for the new Xeon E5-2600 chips) for these servers as well.
Oracle is of course supporting its own Oracle Linux on the boxes, as well as Red Hat Enterprise Linux, SUSE Linux Enterprise Server, and Microsoft Windows 2008. Oracle's VM variant of the Xen hypervisor is also installed by default, but you can also run VMware ESXi if that floats your boat.
Pricing for the traditional Sun small, medium, and large configurations for these x86 servers was not available at press time. (Oracle's website had not quite caught up to its marketeering.) But the machines are apparently shipping now and available for order, according to Raghunathan.
And one last thing: Not all Xeon E5-2600 SKUs are supported, but importantly, the top-bin 135 watt parts are supported and all of the top speeds with four, six, and eight cores are also supported. Oracle is going all-out for performance, and not messing about with the other chips in the Xeon E5-2600 lineup.
Carrier grade, DC powered
Because telcos and service providers sometimes have servers running in unusual places or that need to meet more stringent uptime standards or use DC power, Sun has for years sold its Netra line of ruggedized machines.
Rather than shutting down this business, Oracle has continued it – which presumably means it makes money. There are Sparc-based Netra machines as well as x86-based. And since Oracle took over Sun, we can just say Xeon-based, because Oracle set the Opteron out in the cold soon after taking over Sun.
There are two new Netra machines announced on Tuesday. The Netra X4270 M3 is a rack machine that resembles the Sun Fire X4270 M3 upon which it is based. It has slightly different disk configurations and airflow through the chassis. Disks are on top and air comes in through the bottom.
There are also fewer drives. You can have six drives and a DVD or eight drives, and your only option is 2.5-inch small form factor drives. The Netra X4270 M3 has 16 memory slots, but only supports 8GB and 16GB sticks (like the X6270 M3 blade server does), so you can only push the memory up to 256GB. The machine has the same four 10GE ports on the mobo, and has six PCI-Express 3.0 slots (all x8, and one of them is burned for a SAS host bus adapter).
The Netra X6270 M3 blade server looks to be identical to the Sun Fire X6270 M3, except that it has been run through some extra testing to be ruggedized. It may only support particular SKUs of the Xeon E5s as well – the spec sheets do not say.
These two Netra machines run the same operating systems and hypervisors as the general-purpose x86 boxes, and also come with a DC power option and NEBS Level 3 certification to be compliant with telco ruggedness standards. Pricing was not available on the new Netra machines, but El Reg can assure you that they have higher prices than the Sun Fire plain vanilla boxes. ®
Similar topics