First Look Some vehicles are more suited to certain geographical locales than others. Case in point: Renault's new two-seater electric runabout may not make much sense in central Manchester on a cold, dark, drizzly December evening.
On the other hand, on a sunny afternoon on a Mediterranean island it could be right at home. Lucky, then, that Renault is holding the European launch for the Twizy - the name is a car crash between Twin and Easy - on Ibiza.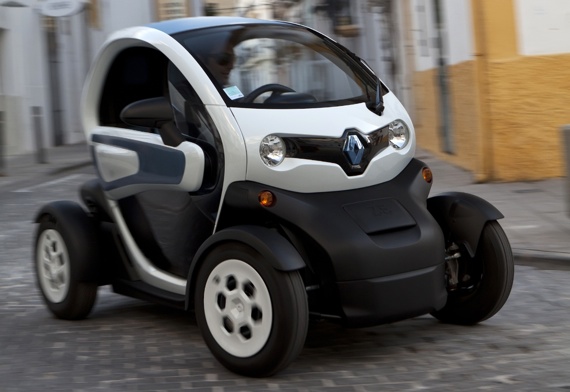 Twizy in motion, in Ibiza
The Twizy is a car - sorry, heavy quadricycle - with an unapologetically exact target audience. Potential owners are likely to be affluent urban dwelling latte-drinkers in their late teens, twenties or thirties who'd rather not partake of the dangers and discomforts of scooter riding.
A scooter is actually the best motorised analogy for the Twizy because the performance is scooter-like, thanks to a 13kW (17bhp) electric motor delivering a top speed of 50mph. The fastest indicated speed I managed on the flat was 86kph - just over 53mph.
With the 0-60 dash out of the question, you will have to make do with Renault's quoted times of 0-28mph in 6.1 seconds and 18-37mph in 8.1. But it all feels faster than it sounds thanks to the absence of doors and 57Nm (42lb-ft) of torque available from the off.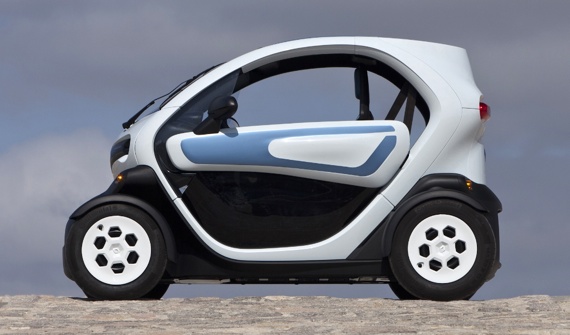 Door bar
Renault's Ibiza test routes didn't include much in the way of urban driving, but I can't honestly say I'd have any qualms about mixing it with the traffic in central London in a Twizy.
Despite the strange looks, the Twizy is remarkably car-like to drive. It has a steering wheel, seat-belts, stalks, pedals and an instrument binnacle. Put it this way,: you feel like you are sitting in a small hatchback not on a large scooter.
Throw it into a corner and any fears that it will just fall over soon evaporate. You see the whole vehicle only weighs 450kg and 100kg of that is the lithium-ion battery pack below the driver's seat, giving it a very low centre of gravity.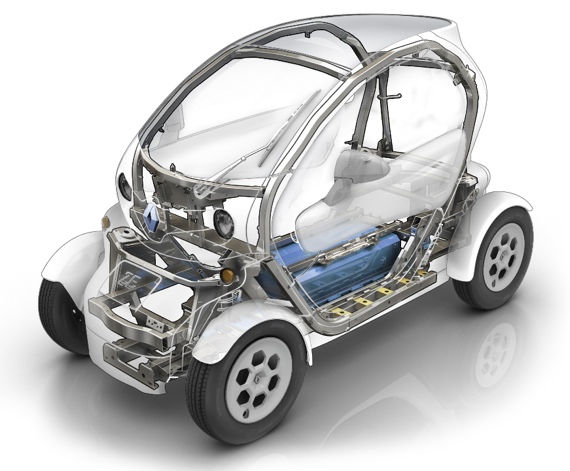 A low-slung battery for a low centre of gravity
That makes the Twizy a hoot to drive. With too little power to get you into serious bother, you just charge around with a manic grin plastered to your face. I've not enjoyed driving something this much for a long time.