This article is more than 1 year old
Toshiba to demo vid streaming without any work by the CPU
Mighty card 'can replace two dedicated servers'
Toshiba's NPEngine hardware directly streams video from SSDs to IP networks without using host server CPU cycles or memory.
Tosh claims the dedicated hardware delivers up to 64,000 x 40Gbit/sec video streams – way more than the 20,000 or so an average 2U server is said to be able to stream. The Toshiba hardware, a server card, can replace at least two video-streaming servers and enable its host server to do other work.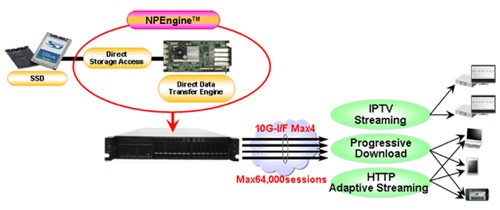 Toshiba NPEngine usage schematic
The Japanese manufacturer says the NPEngine "also cuts space requirements by 70 per cent and power consumption by 77 per cent, for server arrays supporting simultaneous delivery of 1,000,000 video streams".
NPEngine is compliant with HTTP adaptive bit rate streaming and no changes need be made for HTTP streaming apps.
This use of dedicated hardware flies in the face of general IT assumptions that commodity hardware wins out over specialised processing hardware such as FPGAs and ASICs. You could imagine a single chip version of this, if such were feasible, being a neat addition to PCs, notebooks, tablets and Ultrabooks, freeing up the host CPU to do other work while a video is being played.
Toshiba plans to demo the NPEngine fitted into a server at the NAB event in Las Vegas, taking place from 16 to 19 April. It will be available later this year. ®