This article is more than 1 year old
Vintage alien tech crash-lands in field
Reg reader in Staffordshire Nazca lines shocker
It's widely accepted among those with a penchant for banging on about Atlantis, the pyramids and the bloody Mayan calendar that the Nazca Lines in Peru represent a vast alien spaceport hewn from the living desert by beings so advanced that the human mind would explode if it were obliged to absorb even a millionth part of their incredible knowledge.
What Erich von Däniken didn't explain in his seminal Chariots of the Gods?, however, is just what intergalactic means of transport the extraterrestrials employed to travel the thousands of light years from their homeworld to their South American base.
It would be nice to imagine a Close Encounters-style mothership hovering majestically above Nazca, trumpeting a musical greeting to bemused locals, or perhaps a Klingon warbird uncloaking over ancient Peru, but sadly the truth is rather less impressive.
Thanks to reader Rich Haslett, we can now reveal that not only does ET lack faster-than-light capability, anti-grav drives and photon torpedoes, but his navigation skills aren't up to much either.
Rich explains that he was down at Google Maps earlier this week plotting a course to a meeting and randomly zoomed in on a field next to the A34 in Staffordshire.
This is what he found: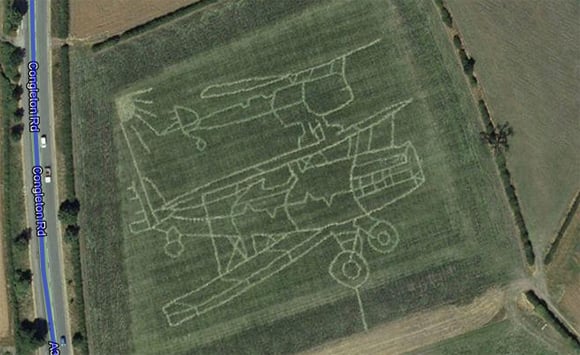 Remarkable. Presumably, a map-reading error forced the alien craft down in Blighty, where its occupants mowed a giant representation of their vehicle as a form of SOS to other passing spaceships.
They could be in for a long wait, though, because by our reckoning the type of vessel shown above would take 43,385,325 years to arrive from our nearest neighbour star Proxima Centauri, assuming the pilot doesn't stop for fuel, coffee and sandwiches, or a stretch of the legs. ®