Don't think World+Dog is bonkers for tablets? Market watcher Gartner does. It reckons some 118.9m of the things will ship this year - almost twice the number shipped in 2011.
No surprise for guessing Apple will lead the pack - and then some. iOS will outsell its closest competitor, Google's Android, right through 2016, Gartner said.
Judging from the two OS' near-parallel growth rates to that point, it's hard to see Android suddenly rushing ahead of the Apple offering.
But like all forecasts, since no one can reveal what new technology the two firms will introduce - or what cock-ups they'll make - there's a lot of room for error here.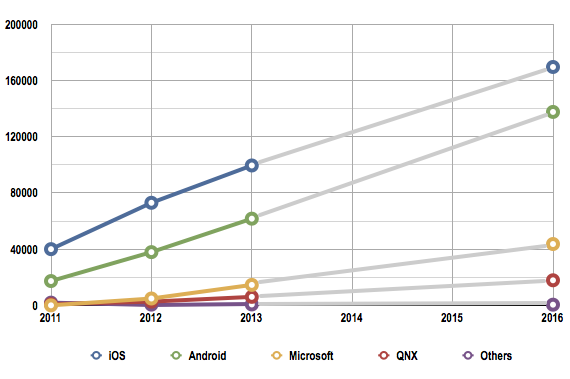 Data source: Gartner
RIM, however, seems to be about to get over its mistakes, Gartner believes. The researcher reckons RIM's QNX OS, the basis for the PlayBook operating system, won't vanish into obscurity over the coming years, though it will be very much a minority player, always behind Microsoft.
Not that Redmond need feel too pleased. By Gartner's estimates, it will sit way behind Android, let alone Apple.
Windows 8 will drive the adoption of tablets by big business, Gartner forecast, but its own numbers show that plenty of corporates and a heck of a lot of consumers are going to opt for other platforms.
And shipping and selling are two very different things.
"As vendors struggled to compete [with Apple] on price and differentiate enough on either the hardware or ecosystem, inventories were built and only 60m units actually reached the hands of consumers across the world," said Carolina Milanesi, a Gartner research VP. ®