A Seattle-based startup is looking to give computer users a personalized news feed based on their social-networking preferences.
Wavii is the brainchild of Adrian Aoun, an ex-Microserf, who told The Register that his team of around 25 staffers had made a breakthrough in machine understanding of language that enables the personalization of news feeds to be much more effective than previous systems. The Wavii service is initially going to be linking into Facebook feeds for its data, with Twitter and other social-media sources to be added later.
"Everyone tried natural language processing [by computers], but no one's taken our approach – and it works," he says. "There's an advantage to coming after Google, Facebook, and Microsoft on this. We also got their learning in this area and can see what was tried and failed."
Wavii servers scan current and breaking news, as well as other social-media data, to bring up a timeline of what's going on where. It then presents the information, with links to drill down further and tools for the user to express likes and dislikes about the information that is fed through.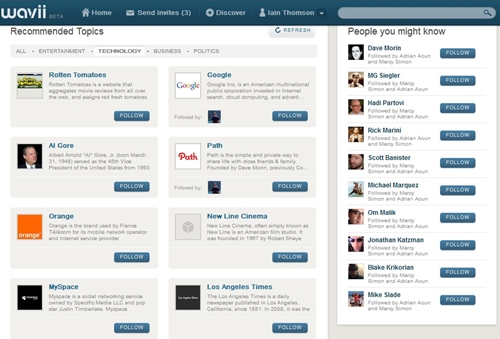 Users need to fine tune their interest choices
The system does require fine-tuning by the user, so that the Wavii system can learn enough to sort the correct news events to match areas of interest. At the moment the service deals with four news areas: entertainment, technology, business, and politics. Aoun say that the systems set up by Wavii can be either run as a standalone service or licensed to third-parties.
El Reg has been trying Wavii out for the last few days, and the system certainly looks interesting – but it's clear these is very early days. Certainly a lot of the news is entertainment-focused, but some surprising snippets have cropped up, along with a lot of outdated information. Since the system has only been running with less than a thousand testers so far, it's also going to be interesting to see how well it copes with volume traffic. ®